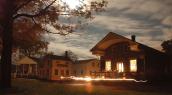 Cooperstown, N.Y. -
During the most haunting time of the fall season, The Farmers' Museum invites visitors to experience "Things That Go Bump in the Night." Join museum interpreters as they lead you about the shadowy grounds and recount the many mysteries and ghostly happenings that have occurred in the Museum's historic village. These tours will be held on three nights only: Saturday, October 20; Friday, October 26; and Saturday, October 27, beginning at 5:30p.m. Museum guides walk visitors through the darkened 19th-century village by lantern, stopping at various buildings throughout, including the Blacksmith's Shop and Bump Tavern, weaving ghostly tales adapted from the Louis C. Jones' classic,
Things That Go Bump in the Night,
a timeless record of haunted history and restlessspirits in New York State. Participants will hear stories associated with the museum's buildings as in the tale of a young ghost sighted by staff and guests in Bump Tavern and the mysterious early morning strikes on the blacksmith's anvil. These hour-long tours are held every half-hour between 5:30 p.m. to 8:00 p.m. Reservations are required. Admission is $10 per person (ages 3 and up). Please call (607) 547-1452. 
###
About The Farmers' Museum
As one of the oldest rural life museums in the country, The Farmers' Museum in Cooperstown, New York, provides visitors with a unique opportunity to experience 19th-century rural and village life first-hand through authentic demonstrations and interpretative exhibits. The museum, founded in 1943, comprises a Colonial Revival stone barn listed on the National Register for Historic Places, a recreated historic village circa 1845, the Empire State Carousel, and a working farmstead. Through its 19th-century village and farm, the museum preserves important examples of upstate New York architecture, early agricultural tools and equipment, and heritage livestock. The Farmers' Museum's outstanding collection of more than 23,000 items encompasses significant historic objects ranging from butter molds to carriages, and hand planes to plows. The museum also presents a broad range of interactive educational programs for school groups, families, and adults that explore and preserve the rich agricultural history of the region.
For more information or images, please contact:
Todd Kenyon, Public Relations New York State Historical Association Fenimore Art Museum/The Farmers' Museum Phone: (607) 547-1472 / E-mail:
t.kenyon@nysha.org