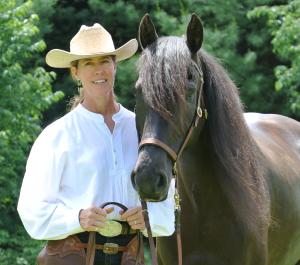 May 11-15, 2020
Claryville, N.Y. — Frost Valley YMCA is excited to announce that renowned riding instructor Heidi Potter will be the Clinician for its Certified Horsemanship Association (CHA) Standard Instructor Clinic this year. The CHA clinic, for those looking to become a certified riding instructor in English and/or Western disciplines, will take place May 11-15, 2020 at Frost Valley's private East Valley Ranch located at 21 Straus Lane in Claryville, NY.
The registration fee for this extensive five-day clinic is $600 for the clinic only or $900 for the clinic, lodging, and meals. The certification process will involve teaching at least four practice lessons, a riding evaluation, a written test and participation in workshops on risk management, teaching techniques, professionalism, and herd management.
Heidi Potter is an internationally known and respected trainer, clinician, instructor and author, sharing over 50 years of horse experience. She is a certified Centered Riding© Clinician who learned directly from Ms. Sally Swift, the founder of Centered Riding. Heidi is a dedicated CHA Master Instructor and Clinic Instructor who supports the important work CHA does of helping to ensure safe, educational, enjoyable equine programs across North America. She shares her knowledge of holistic horsemanship as an Accredited Horse Agility Trainer and Horse Speak® Senior Instructor.

Five levels of certifications can be achieved in the CHA Standard Instructor Clinic, ranging from assistant instructor to CHA clinician. Certification level is determined at the discretion of clinician Heidi Potter along with the rest of the clinic staff and no certification of any kind is guaranteed.
For more information or to register for the CHA Clinic, please call 845-985-2291 ext. 240 or email horses@frostvalley.org.
Photos and interviews are available upon request. Please contact Chief Brand Experience Officer Amanda Hinski at ahinski@frostvalley.org.

About Frost Valley YMCA: Frost Valley YMCA is a values-driven organization that fosters youth development, healthy living, and social responsibility through outdoor educational and recreational programs for all. Located in the heart of the Catskill Mountains, Frost Valley provides year-round access to nature and fun through programs such as summer camp, adventure trips, farm camp, equestrian programs, group and family retreats, family weekends, school trips, teambuilding and more. Frost Valley, a not-for-profit organization chartered through the YMCA of the USA, is guided in this pursuit by its core values which serve as pathways for guests as they bond with nature and each other: Caring, Community, Diversity, Honesty, Inclusiveness, Respect, Responsibility, and Stewardship.
                               ###

 
Photo: Heidi Potter.jpg
Caption: Internationally reknowned horse trainer, clinician, and riding instructor Heidi Potter will serve as clinician for Frost Valley YMCA's Certified Horsemanship Association Standard Instructor Clinic on May 11-15, 2020.
 
CONTACT: Amanda Hinski, Chief Brand Experience Officer
TEL: (845) 985-2291 x383  EMAIL: ahinski@FrostValley.org