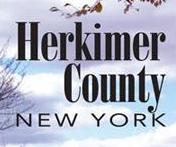 Herkimer County, N.Y.
- Here's what you need to know about travel in Herkimer County this Labor Day weekend:
Herkimer County, New York's tallest county at 84 miles, is open 24/7 and is accessible from all directions on NY State highways including the Thruway.
The main concern among Herkimer County tourism officials and residents is the safety and well being of neighbors in other regions hit hard by the storm.
Even though the Mohawk River and Erie Canalway is a major ingredient in Herkimer County tourism, the high water resulting from Hurricane Irene has not stifled access or travel in the southern Herkimer County, and has had little impact the northern Herkimer County, which lies within the Adirondack State Park.
The storm had almost no impact on the Town of Webb (New York's largest township), which encompasses the northern sector of Herkimer County. Its Adirondack communities, including Old Forge, Eagle Bay, and Big Moose, while surrounded by lakes and rivers, have experienced many more sever summer storms.
Many people misunderstood the earlier advisories about the closure of NY State campsites, thinking that the Adirondack Park would be closed. Guests planning travel in the Adirondacks should check all resources to confirm which areas, such as the Central Adirondacks, remain open and accessible.
The weekend schedule for Old Forge/Northern Herkimer County:
Mountain Bike Mondays (FREE) Approximately 2-hr guided ride on trails around Old Forge; hosted by Mountainman Outdoor Supply Company.
Tuesday Kayak Demos (Free) Paddling demos on the Moose River at Mountainman Outdoor Supply Co.
Saturday Yoga/Paddling Session (Free) Yoga on the riverside deck and paddling on the Moose River led by ACA kayak instructor and certified yoga instructor Nanette Shovea-Burke. Kayak rentals available. Hosted by Mountainman Outdoor Supply Co.
Road Ride Saturdays (Free) Guided 25-mile road bike ride around the Fulton Chain of Lakes. Hosted by Mountainman Outdoor Supply Co.
30th Annual Adirondacks National Exhibition of American Watercolors at View, the New Arts Center in Old Forge. Heralded by Artists Magazine as one of the 10 best watercolor shows in the nation.
Eric Seritella ceramic sculpture show at View, the New Arts Center in Old Forge.
Fri. 2 Aug: Old Forge Farmer's Market
Fri. 2 Aug: First Friday Art Walk; Galleries and restaurants on Main Street, Old Forge feature artists' work on display in businesses from Goodsell Museum north to View, the New Arts Center in Old Forge.
Floating Letters Exhibit at Goodsell Museum; The museum, home of the Town of Webb Historical Association, features this exhibit covering 100 years of mailboat service on the Fulton Chain of Lakes, which continues today during the summer season.
2-4 Sep: Old Forge Plein Air Paint-Out; Outdoor painting festival, which culminates with an auction at View, the New Arts Center in Old Forge.
Sat. 3 Sep: Falling Leaves Craft Show; Park Ave. Municipal Building in Old Forge.
Sat. 3 Sept: Paint Your Palette Cocktail Party; Evening party and auction of works painted during the party.
Sun. 4 Sept: CAP-PY Duck Derby; Benefitting the Central Adirondack Partnership for the 21st Century (CAP-21), a non-profit community organization for cultural and economic development. (Old Forge)
Sun. 4 Sep: Labor Day Celebration in Old Forge: Free Lakefront Concert; New Automobile and cash raffle; Fireworks Display. Hosted by the Central Adirondack Association.
Contact
:
Mike Farmer ,
Tourism/Publicity Director, Town of Webb Phone:     315-369-6983 Toll Free: 877-653-3674
mikefarmer@oldforgeny.com