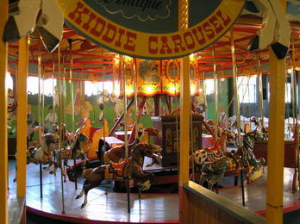 North Tonawanda, N.Y. – The Herschell Carrousel Factory Museum will be reopening on Wednesday July 8th. The museum is excited to welcome visitors back into its space after a long hiatus due to COVID-19. During its first week open only the interior of the museum, including both carousels, will be open. The museum will evaluate opening its Kiddieland Testing Park, outdoor rides, and extending its hours on a weekly basis.
The Herschell Carrousel Factory Museum's hours of operation will be:
Wednesday - 10 am - 3 pm
Thursday - 10 am -3pm
Friday - 10 am - 3 pm
Saturday - 10 am - 3pm
Visitor safety is the first priority and the museum will be taking added measures to ensure it. In order to keep visitors safe the museum is requiring visitors to follow the following protocol:
Face masks/coverings are required at all times for all visitors ages 2 and up.
All visitors are required to have their temperature checked when they enter the museum. Any guest with a body temperature of 100.4 degrees or above will not be permitted to enter.
Visitors will follow the guidance of all staff, signs, and placards around the museum.
The museum asks visitor to practice kindness and patience with all staff and volunteers of the museum.
In addition the museum will be taking the following steps regarding sanitation:
Hand sanitizing stations will be available throughout the museum.
The two carousels will be operating on half hour schedules to ensure time for proper cleaning and sanitation between each ride.
The museum is closing an hour early to allow us additional cleaning time.
Please visit our website to review more on safety protocol: www.carrouselmuseum.org
About the Herschell Carrousel Factory Museum
The Herschell Carrousel Factory Museum is located at 180 Thompson St. in North Tonawanda, New York. The mission of the museum is to be a premier national historic site and community resource for family learning and recreation that fosters an appreciation for the unique heritage of the carousel and related industries in the Niagara Region.