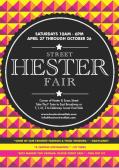 Opening Day: "Old Meets New" As Classic Hester Staples Meet the Newest Additions
New York, N.Y.
- New York's favorite artisan market, Hester Street Fair, is back for a fourth season of amazing vintage finds, artisan creations and delicious local food. We kickoff Opening Day celebrations with special live music and our own Hester Eats food feast. As always, Hester Street Fair stays true to its roots as the site of the first outdoor market in New York City and continues the time-honored tradition of selling the old fashioned way ... face to face, neighbor to neighbor! Visitors are invited to the fair's Opening Day on Saturday, April 27th
to honor old traditions, create new ones and be a part of the Hester Street Fair's growing community. "The Hester Street Fair started off as a passion project. We imagined a space where friends and neighbors in the creative community could have a place to find an audience and launch a small business," says cocreator SuChin Pak. "It has grown beyond our wildest expectations."
HESTER EATS
Our artisanal food selection reflects a curated mix of Hester classics and a new roster of food stars featuring more food than ever before! Almost half the market will be dedicated exclusively to mouthwatering treats, both sweet and savory.
Hester Eats
is our opening day launch into a full season of dazzling food. HERE'S JUST A SAMPLING:
The Classics:
*Luke's Lobster featuring the city's best fresh Lobster Rolls straight from Maine. *Daisy Duke's grilling BBQ straight from their custom smoker. *Oaxaca Taqueria traditional mexican fare with a twist. *LES grilled cheese connoisseurs, Little Muenster, gets very grown up with a childhood classic. *Our very own fresh farm booth: CSA Rachel Mae's Farmstand brings the season's best produce from New York's finest.
The Newbies:
*Khao Man Gai creates an authentic, traditional Thai street food dish that brings it home. *Deviant Chef gives meat lovers something to rave about from Umami Burgers to Short rib and kimchi Risotto Balls. *Chinese Mirch, blends indian herbs and spices with Cantonese, Hakka, and Szechuan style cooking. 22 more food vendors from classics to newbies, we've got the entire menu covered for opening day!!
HESTER SHOPS
To start us off,
Coast to Coast Mobile Vintage,
kicks off their cross country road trip in their tricked out 1970's throwback camper which pops open for vintage hounds looking for great finds. From one of a kind jewelry to redesigned vintage to choice flea market finds, Hester is a shopper's paradise. Opening day, over
40
vendors will be selling everything from beautiful artwork to kids vintage. We're adding more handmade and more beauty to the roster this year, which boasts some of the city's best indie vendors you haven't yet discovered.
About The Hester Street Fair:
The Hester Street Fair is an outdoor community market in the Lower East Side of New York City created by The Big Social team of Ron Castellano, SuChin Pak, Adam Zeller, and Suhyun Pak. HSF is a hybrid incubator and launching pad for small, independent businesses and artists specializing in unique handmade goods and artisanal food. Hundreds of vendors rotate over 60 spaces every Saturday at The Hester Street Fair to create one of the most dynamic outdoor events in New York City. Located on the corner of Hester and Essex Streets, the Fair is open from 10am6pm every Saturday from April 27 through October 26 for our 2013 season. Visit
www.hesterstreetfair.com
for updates and information.
Who:
Hester Street Fair Opening Day + Hester Eats Mini Food Fest
What:
Opening Day 2013
60 vendors
22 food vendors
Farm fresh produce opens season with CSA Rachel Mae's Farmstand
When:
Saturday, April 27, 2012, 10am6pm
Where:
The corner of Hester and Essex Streets - F train to East Broadway or FMJZ to Delancey
For Press Inquiries
: The Big Social/Hester Street Fair Suhyun Pak
suhyun@hesterstreetfair.com
917.267.9496 For General Photos:
https://www.dropbox.com/sh/s212b0sw4tmayq5/1rJTiVD7qm
For Product Photos:
https://www.dropbox.com/sh/46bp3czgzibj2lh/uidmirWbBS