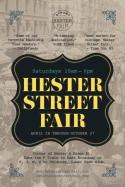 Opening day theme "old meets new" continues to celebrate the lower east side's rich history of open air markets where classic Hester staples meet unique new additions
Saturday, April 28, 2012, 10am-6pm
New York, N.Y.
- Featured as the #1 thing to do this Spring by Time Out, New York's favorite artisan market, Hester Street Fair, is back for a third season Saturday, April 28, with amazing vintage finds, artisan creations and delicious food. Opening Day celebrations kick-off with a special DJ set from Bubbles, New York's feel-good synth-pop band. Hester Street Fair pays homage to the historic pushcart market that was once held in the very same location and continue that time-honored tradition of selling the old fashion way - face to face.The Hester Street Fair artisanal food selection reflects a curated mix of the return of Hester classics while introducing new additions featuring more food than ever before! With over a third of the market dedicated exclusively to mouthwatering treats, both sweet and savory, rest assured that the opening day hunger will be satisfied. Representing Hester classics will be Luke's Lobster, La Sonrisa, Brooklyn Taco and after a season away, Patacon Pisao returns with generations-old Venezuelan recipes. Highlights of the stellar new vendor line-up include: Pies 'n' Thighs featuring a southern style menu that includes the Chicken Biscuit, hush puppies, and mac and cheese; We Rub You's Korean-style BBQ sandwiches; Sons of Essex, a hot new LES restaurant with a delicious rotating menu of savory hot foods; and White Belly Pizza's gourmet pizza baked on-site in an open wood-fired oven. Hester will be getting more interactive this year with a rotating roster of not your average street fair vendors. To start off, the non-profit Compass Yoga will be on hand for Opening Day and teaching yoga poses for $1. Market goers can visit the booth to identify the perfect yoga posture to suit your particular needs by a professional yoga instructor. Opening Day will be a high-energy shopping party with ever popular vintage finds alongside new contemporary collections. Estate Jewels by George & Raf and beautiful clothing from Dolls & Robots Vintage return to Hester while celebrity stylist Crystal Streets joins to offer celestial-inspired jewelry. Crystal Street's LYRALOVESTAR collection will be available at wholesale prices exclusively at Hester. There will also be HSF Gift Boxes of HSF featured items in vintage-inspired packaging with an Instagram Photo Booth Contest. Attendees who take photos at our Photo Booth and share them on Instagram with mentions of @HesterStFair and hashtag of #OpeningDay2012 will automatically be entered to win a HSF Gift Box.
"The Hester Street Fair started off as a passion project. We imagined a space where friends and neighbors in the creative community could have a place to find an audience and launch a small business," says co-creator SuChin Pak. "It has grown beyond our wildest expectations."
Come to Opening Day 2012 on Saturday, April 28th to honor old traditions, create new ones and be a part of our growing community!
About The Hester Street Fair:
The Hester Street Fair is an outdoor community market in the Lower East Side of New York City created by The Big Social team of Ron Castellano, SuChin Pak, Adam Zeller, and Suhyun Pak. HSF is a hybrid incubator and launching pad for small, independent businesses and artists specializing in unique handmade goods and artisanal food. Hundreds of vendors rotate over 60 spaces every Saturday at The Hester Street Fair to create one of the most dynamic outdoor events in New York City. Located on the corner of Hester and Essex Streets, the Fair is open from 10am-6pm every Saturday from April 28 through October 27 for our 2012 season. Visit
http://www.hesterstreetfair.com/
for updates and information.
For Press Inquiries:
The Big Social/Hester Street Fair Ashley Cheung
ashley@hesterstreetfair.com
917.267.9496
For Media Kit and Full Vendor List:
www.hesterstreetfair.com/epk/hester2012epk.zip
For Press Photos:
www.hesterstreetfair.com/epk/openingdayimages.zip