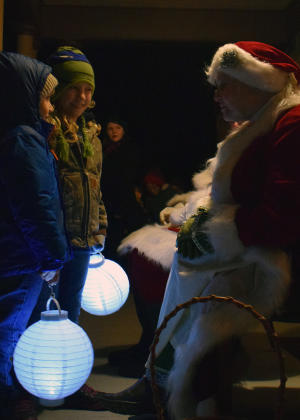 New Paltz, NY (November 12, 2019) – Historic Huguenot Street and the Reformed Church present the 2019 Holiday on Huguenot Street and Community Tree Lighting Friday, December 6, starting at 4:30 PM, and Saturday, December 7, at 10 AM. This event will highlight holiday and community traditions in New Paltz during the late Victorian era. Special tours feature costume interpreters portraying Huguenot Street's past residents.
On Friday, the tours will be about 1 hour, taking place at 4:30 PM, 5:30 PM, 7:30 PM, and 8:30 PM. From 5:00 to 8:00 PM, Local at Heart will host the annual Cookie Walk at the DuBois Fort Visitor Center. Also at 5:00 PM, the Reformed Church's annual Craft Fair Preview will open in the Wullschleger Education Building where visitors can purchase their paper lanterns used for the 7:00 PM light parade. At 5:45 PM, Soup and Stoop will begin on the steps of the church. At 8:00 PM, pictures with Santa and Mrs. Claus will be on the Deyo House porch. At 7:30 PM, the Reformed church will host a free holiday concert in the sanctuary, featuring the local music group The Olive Quintet.
On Saturday, the annual Craft Fair will start at 9:00 AM to 2:00 PM at the Reformed Church. The Museum Shop at Historic Huguenot Street will open at 10:00 AM to 5:00 PM and will be selling holiday themed goods and gifts. The holiday tours will happen hourly at 12:00 PM, 1:00 PM, 2:00 PM, 3:00 PM, and 4:00 PM. Local at Hearty with volunteer support from the Misty Mountain Girl Scout Troop will continue their Cookie Walk from 10:00 AM to 3:00 PM not he lawn of the Reformed Church. At 11:00 AM to 2:00 PM, the Church's Christmas Cafe in the Social Hall (92 Huguenot Street) will be open. Immediately after, a free holiday concert featuring the Big Blue Big Band will happen in the Church's sanctuary. Beginning at 11:00 AM, Historic Huguenot Street will host horse-drawn wagon rides along the street. Rides will be available every 15 minutes from 11:00 AM to 2:00 PM for $5 (children 3 and under are free), departing from the DuBois Fort. Visitors can also meet and pet local farm animals and learn about these friendly creatures from local 4–H members.
To register for tours visit: https://huguenotstreet.z2systems.com/np/clients/huguenotstreet/eventRegistration.jsp?event=1727
For more information, visit https://www.huguenotstreet.org/holiday-2019.
Holiday on Huguenot Street is sponsored by Ulster Savings Bank; Americas Best Value Inn; Lothrop Associates; Riverside Bank, A Division of Salisbury Bank and Trust; and Hudson Valley Federal Credit Union
About Historic Huguenot Street
A National Historic Landmark District, Historic Huguenot Street is a 501(c)3 non-profit that encompasses 30 buildings across 10 acres comprising the heart of the original 1678 New Paltz settlement, including seven stone houses dating to the early eighteenth century.  Historic Huguenot Street was founded in 1894 as the Huguenot Patriotic, Historical, and Monumental Society to preserve the nationally acclaimed collection of stone houses.  Since then, Historic Huguenot Street has grown into an innovative museum, chartered as an educational corporation by the University of the State of New York Department of Education that is dedicated to protecting our historic buildings, preserving an important collection of artifacts and manuscripts, and promoting the stories of the Huguenot Street families from the seventeenth century to today.
###
Contact:
Frances Vigna
Marketing & Communications Coordinator
(845) 255-1660 Ext. 102