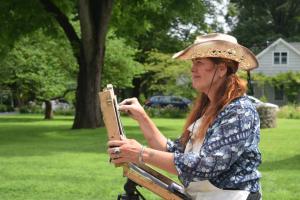 New Paltz, NY (July 22, 2020) – Historic Huguenot Street is excited to announce the return of Artists on the Street: A Plein Air Event, which will take place Saturday, August 1, from 11 AM to 4 PM. This year's event will span the 10-acre National Historic Landmark District and will feature a dozen local artists, including Kevin Cook, Carolyn Edlund, Staats Fasoldt, Mira Fink, Emeline Hastings, Chris O'Neal, Mitchell Saler, Vaune Sherin, Joseph Sundwall, Fran Sutherland, and Marlene Weidenbaum, PSA-MP.
The HHS staff and volunteers have worked hard to prepare the site in order to welcome visitors back for one of its first public events since the March 2020 closure. Visitors can expect to see these talented, local artists painting live, treat themselves to plant-based tropical Italian comfort food from the Baba Food Truck, register to vote with volunteers from the League of Women Voters, and check in with HHS staff who can update them on the museum's phased re-opening and pre-register them for other upcoming events. 
Ensuring the health and safety of visitors is key, and as visitors walk the grounds, they will be asked to wear proper face coverings and practice appropriate social distancing of at least 6-feet. Hand sanitizer pumps will be available throughout the site. Visitors are also encouraged to leave their information with HHS for the purpose of contact tracing and may do so in various locations throughout the event.  
Check out our end of day virtual exhibit by searching #AOTS2020 on your social media platforms to see each participating artist's final works.  
Registration for this event is free, but limited. To register, visit https://www.huguenotstreet.org/calendar-of-events/2020/8/1/artists-on-the-street-a-plein-air-event. 
Sponsored by Stewart's Shops and Riverside Bank, a Division of Salisbury Bank and Trust 

About Historic Huguenot Street
A National Historic Landmark District, Historic Huguenot Street is a 501(c)3 non-profit that encompasses 30 buildings across 10 acres comprising the heart of the original 1678 New Paltz settlement, including seven stone houses dating to the early eighteenth century.  Historic Huguenot Street was founded in 1894 as the Huguenot Patriotic, Historical, and Monumental Society to preserve the nationally acclaimed collection of stone houses.  Since then, Historic Huguenot Street has grown into an innovative museum, chartered as an educational corporation by the University of the State of New York Department of Education that is dedicated to protecting our historic buildings, preserving an important collection of artifacts and manuscripts, and promoting the stories of the Huguenot Street families from the seventeenth century to today. 
Contact:
Frances Vigna
Marketing & Communications Coordinator
(845) 255-1660 Ext. 102