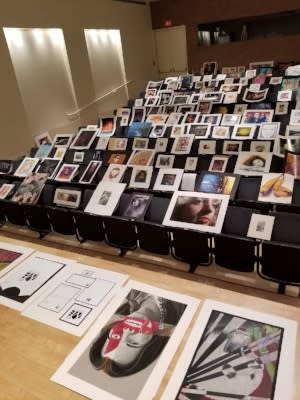 Glens Falls, N.Y. —On a panel of three jurors looking at several hundred works of art, there are bound to be a few disagreements. But The Hyde Collection's twenty-seventh annual High School Juried Show jury members easily agreed that this year's artwork was incredible.

"I was blown away by the talent of these kids," said juror Takeyce Walter, a painter and art educator. "I was expecting a lot of mediocre work, but I was actually surprised that there was a lot of work that I said, 'Wow, I would purchase that and hang it in my house.' "

The annual High School Juried Show is a well-known showcase of local high school students' creativity and passion for art. A panel of judges that included Walter; Doug Gruse, director of marketing at SUNY Adirondack; and Emma Huneck, exhibitions director at Saratoga Arts, selected 100 works out of nearly 700 submissions from students in eighteen schools in Warren, Washington, Saratoga, Hamilton, and Essex counties.

"We look forward to the High School Juried Show each year to see the immense talent of local students and to honor the efforts of the wonderful teachers who guide them," said Anne Saile, interim director of The Hyde Collection.

This year's submissions made whittling the field down particularly difficult, the judges said. "I knew it was going to be impressive," Huneck said, "and the quality of work was even higher than I expected."

Winners of the three Jurors Award, the Curator's Award, and the Director's Choice will be announced at a reception from 1 to 4 pm Saturday, May 12, at The Hyde Collection, 161 Warren St.

"I hope the students understand what a great opportunity it is for them to have their work hanging in an institution as prestigious as The Hyde," Gruse said. "They should be really proud and really savor that moment."

The jury process has two phases of evaluation. During the first, digital adjudication, all entries are presented in digital photographs and reviewed. Jurors score each artwork based on a rubric created by Hyde Educator Jenny Hutchinson, assigning scores in artistic merit and originality. The rubric provides jurors an unbiased resource on which to base their scores and gives a universal standard for the work to be evaluated, no matter the medium. The scores are totaled.

In the second phase, the jurors discuss the artworks based on their scores and select 200 semifinalist artworks. The selected semifinalist artworks are presented in a live adjudication, when jurors each make a list of their selections, then come together to make final selections. Works can be selected by a majority vote or through reasoned discussion. The juror coordinator serves as an unbiased mediator throughout the entire process.

"Every piece had multiple opportunities to be viewed and judged, so there were no rash decisions," Gruse said. "Even students who maybe didn't make it into the show should be really proud because there was such great level of quality of work that I didn't feel like any of the submissions were not worthy."

"Just because your work doesn't get selected doesn't mean it isn't of high quality and that can be a really hard pill to swallow, even for experienced artists," Huneck said.

Students should instead focus on the experience. "We are proud to offer this opportunity to high school students. It's a great learning experience to create a work of art, prepare it for submission, and go through the juried show application process," Hutchinson said. 

"It's just a fantastic validation, to encourage them to continue, to keep working," Walter said. "If at this young age, they're able to get their work in a nationally recognized museum, they definitely have something and should really look at it."
The annual High School Juried Show will be exhibited from May 12 to June 10 in The Hyde Collection's Feibes & Schmitt and Rotunda Galleries. Admission to the opening event is $12 for the general public; $10 for seniors; free for students with ID, veterans, active military personnel and their families, and children ages 12 and younger. Each student with artwork in the show receives free admission and a limited number of guest passes for the opening reception. Space is limited for the awards ceremony and is first-come, first-served.
What is The Hyde?
The Hyde Collection is one of the Northeast's exceptional small art museums with distinguished collections of European, American, Modern, and Contemporary art. Its permanent collection of nearly 4,000 works spans centuries and consists of paintings, drawings, graphics, sculpture, furniture, and decorative arts. The core collection, amassed by Museum founders Louis and Charlotte Hyde, includes works by such European masters as Sandro Botticelli, El Greco, Rembrandt, Peter Paul Rubens, Edgar Degas, Georges Seurat, Pablo Picasso, and Pierre-Auguste Renoir, and Americans Thomas Eakins, Childe Hassam, Winslow Homer, and James McNeill Whistler. The Museum's collection of Modern and Contemporary art features works by Josef Albers, Dorothy Dehner, Sam Gilliam, Adolph Gottlieb, Grace Hartigan, Ellsworth Kelly, Sol LeWitt, George McNeil, Robert Motherwell, Ben Nicholson, Robert Rauschenberg, and Bridget Riley. The Hyde Collection presents changing exhibitions in its five galleries, as well as lectures, cultural events, family activities, and school programming in its modern museum complex and historic house at 161 Warren St., Glens Falls.
Also at The Hyde
The Hyde Collection is exhibiting the works of Rockwell Kent in The Prints of Rockwell Kent: Selections from the Ralf C. Nemec Collection and A Life and Art of His Own: The Paintings of Rockwell Kent from North Country Collections. Rockwell Kent was an acclaimed painter, printmaker, traveler, author, and political activist. In complementary exhibitions, the Museum examines the breadth of the artist's talents, with fifty-two prints, a selection of ceramics, and thirty-seven paintings. Kent (1882 - 1971) traveled extensively to Greenland, Tierra del Fuego, Newfoundland, Alaska, and other remote locations, transporting viewers to the rugged extremes of wilderness. Many of his works were centered on the inherent good of man and nature, and the relationship between them. The print exhibition is organized by Landau Traveling Exhibitions, Los Angeles, California. The paintings exhibition is drawn from Plattsburgh State Art Museum, Adirondack Experience, and private collections.

The Feibes & Schmitt Gallery has an installation of works from the Museum's permanent collection of Modern art. The exhibition includes works by Josef Albers, Jean Arp, Adolph Gottlieb, Grace Hartigan, Barbara Hepworth, Ellsworth Kelly, Robert Motherwell, Robert Rauschenberg, David Smith, and Andy Warhol, among others.
For more information, please visit www.hydecollection.org or call 518-792-1761.
###
For More Information:    
Rhonda Triller
Communications Associate
The Hyde Collection
518.792.1761 ext. 320
rtriller@hydecollection.org