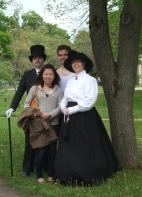 Niagara Falls, N.Y.
- Annie Edson Taylor who, in 1901, became the first person to go over Niagara Falls in a Barrel, returns to the Niagara Falls State Parks this Summer for a third season of leading the Encounter Niagara Characters of History program.  Taylor is one of a half-dozen historic Characters who stroll the State Parks at Niagara Falls on Saturdays from Memorial Day to Labor Day, and Tuesdays in July and August.  The program is returning for a third year and is sponsored by the New York State Office of Parks, Recreation and Historic Preservation and their constituents.  Encounter Niagara Tours, a local Receptive Tour and Guide Service operating in Niagara USA, provides the Characters who encompass the broad and rich history of Niagara Falls. Danielle Green, owner of Encounter Niagara, comments "each year the program has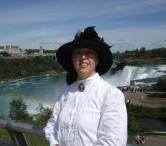 become more popular among guests, more people stop to hear the stores 'first hand' and to pose with one of the colorfully-dressed characters".  Joining Annie Taylor will be a cast that includes Celinda Eliza Whitney - a young girl from the early 1800's who tells the story of how the Islands known as "Three Sisters Islands" were named for she and her two sisters.  Inventor Nikola Tesla, whose Statue adorns the State Parks, walks past his likeness sharing the stories of his inventions and developments in the areas of Hydroelectricity.  For this year's Tightrope Walk across the Gorge on June 15th by Nik Wallenda, the Team will be at the parks prior to the walk and will be joined by Maria Spelterini.  In 1876, to celebrate America's first centennial, Spelterini became the first - and only - woman to walk a tightrope across the Niagara Gorge (she repeated the act several times wearing peach baskets on her feet, blindfolded and even manacled).  The spirited Italian heroine will be telling her story to a backdrop of one of our most exciting recent events! For more information about the program, please visit www.encounterniagara or write to
info@encounterniagara.com
, or call 716-462-4402. Photo and content are released without reservation.
Photo 1
- Nikola Tesla, Guests of the Park and Annie Edson Taylor
Photo 2
- Annie Edson Taylor