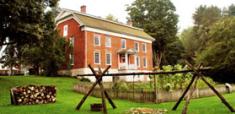 Little Falls, N.Y.
- A mix of men's and women's hat styles from the past to present will be modeled by local personalities at the Historic Hat Show and Luncheon fundraiser at Herkimer Home State Historic Site on June 9 from 1:00pm to 3:00pm. This event is one of the special events planned for the site's centennial season. Each model will showcase two different hats with complimentary accessories from an array of amazing hats from Saratoga Estates and private collections. The hats range from the 1700's to present and carry a bit of an interesting and whimsy tale.  This historical and hysterical show is produced and directed by Marcella Asselta, owner of the Pink Parlor in Little Falls. Everyone attending is encouraged to arrive in a hat to add to the festive setting. Awards will be presented for a variety of hat decorating categories. Guests can visit the first floor of the mansion to view the Raffle baskets that will be on display. Be prepared for a fun-filled, amusing, but dignified Hat-pening! Tickets are $25.00 per person and reservations are required by June 2.   Call Herkimer Home at 315-823-0398 or Email:
Karen.sheckells@parks.ny.gov
. Show and lunch details can be found at
http://www.herkimerhomeacademy.org/
. This fundraising event is to benefit the enhancement of the period clothing collection and textiles for the historic home. Marcella Asselta is owner of Fine Design Studios located in Utica and Ballston Spa. She is a stage designer, art producer, program organizer, and fine arts author. 10% of her fee is donated to Breast Cancer Research.
###