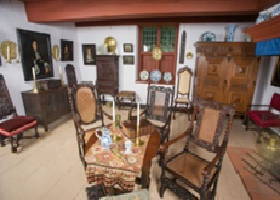 Historic Huguenot Street exhibition of Dutch Fine and Decorative Arts extended through December 16
New Paltz, N.Y. – Historic Huguenot Street (HHS) has extended the special exhibition Living in Style: Selections from the George Way Collection of Dutch Fine and Decorative Art until December 16, 2018. Featuring more than 100 17th- and 18th-century Dutch items from the Netherlands—including 22 oil paintings, a rich diversity of interior furnishings, and decorative and utilitarian objects—the exhibition is installed in a period room in the historic Jean Hasbrouck House (ca. 1721) and celebrates the Dutch culture that flourished in the 1600s and 1700s in New York State's New Netherland Colony.
Josephine Bloodgood, HHS director of curatorial and preservation affairs and coordinator of the project, says, "We are delighted to extend the Living in Style exhibition, which highlights the enduring impact of Dutch settlement in the Hudson Valley. It is especially meaningful to provide our visitors with an immersive encounter by placing the objects as they would have been centuries ago in a Dutch home in the Netherlands, from furnishings and decorative objects to paintings and cooking utensils. The exhibition is a vibrant lens through which to celebrate the first Europeans to settle in Manhattan, the Hudson Valley, and surrounding areas."
Highlights from the George Way Collection include two elaborately carved side chairs based on the engraved designs of Daniel Marot, a French Huguenot architect and designer largely responsible for the interiors at William of Orange's palace at Het Loo, The Netherlands. Marot worked for William before and after the latter became co-regent of England, Ireland, and Scotland with his wife Mary II. The chairs feature serpentine stretchers, trumpet legs, and ball feet, all typical of the Dutch "Golden Age," an unprecedented era of economic prosperity and high artistic achievement in the arts and sciences.
Oil paintings of portraits, interiors, and genre scenes, Delft ceramics, and other decorative pieces adorn the room. Iron and brass utensils are featured in the jambless fireplace.
Other furnishings in the period room include a:
tulip carved lift-top chest with the initials of its original owners and dated 1701;
graduated chest of drawers;
barley twist walnut stool, and;
rare, carved rack designed to hold 14 pipes.
The Jean Hasbrouck House, where the exhibition can be seen as part of the general tour, is an exceptional example of traditional 18th-century Dutch architecture in the Hudson Valley. The high-pitched gable roof spanning twice the depth of other stone houses from the period is thought to be unique in the United States. The interior of the house features an original open-hearth, jambless fireplace and reconstructed kruiskozijnen (crossbar windows), both typical of Dutch vernacular architecture, providing the perfect setting for the presentation.  
Funding for the project was provided by a grant from the Peggy N. and Roger G. Gerry Charitable Trust and a private donation.
Tours
George Way will lead private exhibition tours Sunday, September 16, and Sunday, October 14, at 2 PM. Private tours are $20 ($18 for seniors, active military members, veterans, students, and members). Register at https://huguenotstreet.z2systems.com/np/clients/huguenotstreet/eventRegistration.jsp?event=1661&.
The exhibition may also be viewed as part of regular HHS tours. Ninety-minute tours of the HHS campus are available hourly beginning at 10 am, with the last tour departing the DuBois Fort Visitor Center at 4 pm. Guided tours are $15 (10% off for seniors and Friends of Historic Huguenot Street). Free for SUNY New Paltz students, children under 12, and active military families as part of the Blue Star Museums program. Public programs are offered year-round. Visit the calendar of events for more information.
Publications
Living in Style is accompanied by a full-color catalogue with text contributed by Ruth Piwonka. Piwonka has worked as a material-culture historian for over 40 years. She is the author of A Portrait of Livingston Manor, 1686‒1850 (1986); and co-author with Roderic H. Blackburn of Remembrance of Patria: Dutch Arts and Culture in Colonial America, 1606‒1776 (1988); and A Visible Heritage, Columbia County, New York: A History of Art and Architecture (1996, 2000). Piwonka has contributed to several other projects including New World Dutch Studies, Dutch Arts and Culture in Colonial America, 1609-1776 (1987) and Dutch New York Between East and West: The World of Margrieta van Varick (2009).
George Way Collection
George Way has been a collector of fine Dutch 16th- and 17th-century furniture, paintings, and decorative arts for over fifty years. He began his collection as a teenager; today, it is recognized as one of the finest private collections of Dutch and English furniture, artifacts, and fine arts in the country. As one of America's leading experts in 17th-century furniture, Mr. Way served as a consultant for Christie's New York, and has made guest appearances on the Oprah Winfrey Show and the Today Show, among others. He was named one of the top 100 collectors in America by Art & Antiques for four consecutive years (1989–92).
Historic Huguenot Street
A National Historic Landmark District, Historic Huguenot Street in New Paltz, NY, is a 501(c)3 non-profit that encompasses 30 buildings across 10 acres that was the heart of the original 1678 New Paltz settlement, including seven stone houses that date to the early eighteenth century.  It was founded in 1894 as the Huguenot Patriotic, Historical, and Monumental Society to preserve the collection of stone houses. Since then, Historic Huguenot Street has grown into an innovative museum, chartered as an educational corporation by the University of the State of New York Department of Education, dedicated to protecting the historic buildings, conserving an important collection of artifacts and manuscripts, and promoting the stories from the pre-colonial Munsee Esopus landscape—dating back 9,000 years—and the culture and architecture of New Paltz's earliest European settlers and enslaved Africans, from the 17th century to today. Open daily except Wednesdays, 10 am to 5 pm. Visit www.huguenotstreet.org for public programs, tour times, visitor amenities, and more information.
Media Contacts
For additional information, please contact Frances Vigna, marketing & communications coordinator, at frances@huguenotstreet.org.
###
Frances Vigna
Marketing & Communications Coordinator
(845) 255-1660 Ext. 102