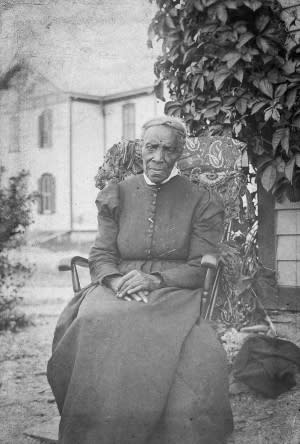 New Paltz, NY (February 13, 2018) – Following the successful 2017 run of  Historic Huguenot Street (HHS)'s monthly "In Her Words" women's history tours, HHS will host a lecture and performance on March 10 at 4:00 pm focusing on the lives of several women who helped shape local history. This Women's History Month presentation will feature actors portraying a number of remarkable women, performing creative monologues at Deyo Hall (6 Broadhead Avenue).
The monologues have been revised since last year, and the lecture will feature an additional monologue from the point of view of an Esopus Munsee woman who signed the 1677 New Paltz land deed. This monologue was developed in collaboration with the Stockbridge-Munsee Historical Committee. In place of a monologue, the portrayal of "Aunt Judy" Jackson will feature the performance of an African-American spiritual. Additional information has been gathered, and the lecture component will feature photographs of some of the women and their homes.
Visitors will hear stories and watch performances of Manveht, an Esopus Munsee woman who signed the 1677 land deed; Catherine Blanchan (1629 – 1713), one of the original New Paltz Huguenot settlers; Rachel, an enslaved African woman; Wyntje Hasbrouck (1708 – 1787), a colonial woman who managed her own estate; Julia "Aunt Judy" Jackson (ca. 1800 – 1898), a freed slave and choir singer; Eliza Ackert (1830 – 1916), the first female editor of the original New Paltz Times; Progressive-era artist Julia McEntee Dillon (1834 – 1919); and Mary Jane Snyder Freer (1862 – 1931), the first New Paltz woman to vote in 1918.
Light refreshments will be served. Registration is available at huguenotstreet.org/calendar-of-events for $20 (or $18 for seniors, members of HHS, and members of the armed service).
About Historic Huguenot Street
A National Historic Landmark District, Historic Huguenot Street is a 501(c)3 non-profit that encompasses 30 buildings across 10 acres comprising the heart of the original 1678 New Paltz settlement, including seven stone houses dating to the early eighteenth century.  Historic Huguenot Street was founded in 1894 as the Huguenot Patriotic, Historical, and Monumental Society to preserve the nationally acclaimed collection of stone houses.  Since then, Historic Huguenot Street has grown into an innovative museum, chartered as an educational corporation by the University of the State of New York Department of Education, that is dedicated to protecting our historic buildings, preserving an important collection of artifacts and manuscripts, and promoting the stories of the Huguenot Street families from the seventeenth century to today.
###
Kaitlin Gallucci
Director of Marketing & Communications
(845) 255-1660
media@huguenotstreet.org
Image captions
Julia "Aunt Judy" Jackson circa 1892, from the personal collection of Katia and John Jacobs. Courtesy of Historic Huguenot Street.