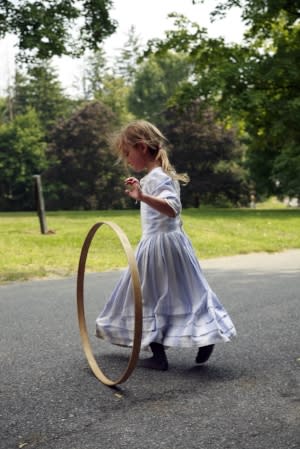 New Paltz, N.Y. (August 8, 2018) – In one month, Historic Huguenot Street is hosting a special revival of Stone House Day, a formerly annual tradition, in partnership with the Town of New Paltz. On Saturday, September 8, from 11 AM to 4 PM, the National Historic Landmark District will host Old New Paltz Stone House Day to celebrate the 340th anniversary of the settling of New Paltz by twelve French Huguenots in 1678.
This Old New Paltz Stone House Day will have a stronger focus on the diversity of Hudson Valley history by highlighting the many cultures that impacted New Paltz and Ulster County including African, Dutch, English, Esopus Munsee, and French. The Reformed Church of New Paltz will once again be a partner in this event.
Seven historic stone houses will be open for public tours or viewing, two of which have been closed for many years. In many of these homes, visitors will encounter interpreters in period garb. Performances and vendor demonstrations will take place throughout the day. Hilary Surfer from County Seat Caning will demonstrate chair caning outside of the Bevier-Elting House, while experienced weaver, Margaret Malloy, will be working a four-harness counterbalance loom inside. Collector Dan Zalewski will present a demonstration of early 20th century gramophones and phonographs outside of the Deyo House next to an informational booth for the Hurley Heritage Society where visitors can learn about Huguenot Street's unique connection to Hurley and its history. The 5th NY Regiment and the 1st Ulster County Militia will engage visitors in a revolutionary war era encampment, which will include demonstrations of musket firing, candle making, sewing, blacksmithing, and more. Also within the encampment, Historic Huguenot Street staff will be on hand to teach children and adult visitors alike a variety of colonial games, which will be available for purchase in the Museum Shop. Nearby, young members of Ulster County 4-H will bring together a petting zoo of farm animals including poultry, rabbits, and goats.
There will be musical performances by the 77th NY Regimental Balladeers and the Ministers of Apollo. The Windham, New York based 77th NY Regimental Balladeers are dedicated to preserving the songs, tunes, history, and spirit of the Antebellum and Civil War period, specifically the 1860s. The members of the group perform with fiddles, guitars, banjos, harmonicas, tin whistles, harp, bodhran, bones, bass, trumpet, and dulcimer. The Minister of Apollo will present their program Early American Music and Arts throughout the day in the French Church. This duo faithfully re-creates music, clothing, cosmetics, and hairstyles of the time period in order to give visitors a flavor of the 18th century. Award winning artist and Huguenot Street resident Kevin Cook will host an open studio and sale from his home across from the burial ground.  Romantic landscapes in oils, watercolors and prints will be available, including some of Huguenot Street itself.
New Paltz Brewing Company (Pfälzerbräu, meaning "Brewery of the Pfalz") will be on site selling their handcrafted beer and hot baked pretzels out of the DuBois Fort Visitor Center. Nearby, Quercus Cooperage founder and business owner John Cox will be doing barrel-raising demonstrations and talking to visitors about the history of the barrel industry in the Hudson Valley. Culinary Historian, cooking teacher, and independent scholar Lavada Nahon will demonstrate cooking over a fire and interpret the life and culture of the enslaved Africans in the Hudson Valley in the mid-18th century.
Old New Paltz Stone House Day is a day for people from all backgrounds to come together to celebrate our vibrant and diverse community in the very location where so much history unfolded.
The History of Stone House Day
Twelve French Huguenot refugees founded New Paltz in 1677 when they traded various goods for 40,000 acres of land with the Esopus Munsee, a subgroup of the Lenape Native Americans who had settled this region for thousands of years prior to European contact. Though the Huguenots fulfilled their part of the land deal and were granted an official patent for the land in September of 1677, it wasn't until 1678 that they "proceeded to occupy the land and built shelters for their families" (according to Ralph LeFevre's History of New Paltz, New York, and its old families (from 1678 to 1820), published in 1909).
Beginning in 1950, when most of the historic houses on Huguenot Street were still privately owned residential homes, the Reformed Church of New Paltz, located on Huguenot Street, organized a fundraiser called Stone House Day during which the residents of the historic houses would dress in colonial costume and allow visitors to tour their homes. The event also included pageants, reenactments, performances, crafts, games, and more.
Eventually, HHS acquired the historic houses and continued hosting the event, which became a popular draw for both the local community and visiting tourists. In 1970, the event was so widely anticipated that it was featured in The New York Times. The event continued to be an annual affair in New Paltz until 2009. Nearly ten years have passed since the last Old New Paltz Stone House Day was held on Huguenot Street.
 Sponsored by Hudson River Valley National Heritage Area, Americas Best Value Inn of New Paltz, Lothrop Associates, Riverside Bank, A Division of Salisbury Bank and Trust Company, and Ulster Savings Bank and supported by Klock Kingston Foundation.
About Historic Huguenot Street
A National Historic Landmark District, Historic Huguenot Street is a 501(c)3 non-profit that encompasses 30 buildings across 10 acres comprising the heart of the original 1678 New Paltz settlement, including seven stone houses dating to the early eighteenth century.  Historic Huguenot Street was founded in 1894 as the Huguenot Patriotic, Historical, and Monumental Society to preserve the nationally acclaimed collection of stone houses.  Since then, Historic Huguenot Street has grown into an innovative museum, chartered as an educational corporation by the University of the State of New York Department of Education that is dedicated to protecting our historic buildings, preserving an important collection of artifacts and manuscripts, and promoting the stories of the Huguenot Street families from the seventeenth century to today.
###
Frances Vigna
Marketing & Communications Coordinator
(845) 255-1660 Ext. 102