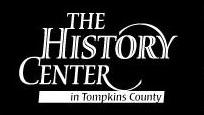 Exhibition Opening Night: May 4, 2012, 5-8 p.m.  
Ithaca, N.Y.
- The History Center in Tompkins County will unveil the last and third scheduled batch of historic quilts on May 4, 2012.  This time, The History Center will highlight "Crazy quilts" and silk quilts from the late 19th century. Quilts made of delicate fabrics, arranged in wild patterns and showing vibrant colors will be on display throughout the month of May. Tompkins Quilters Guild members will keep doing live conservation work on historic quilts every Tuesday and Thursday afternoon in The History Center's main gallery to help better preserve these treasured textiles. They take quilts from their current storage space, photograph them, and document their history. The quilts are then re-housed in archival storage boxes to help conserve them. The Tompkins County Quilters Guild was founded in 1974 to "promote, encourage, stimulate, and support quilters and quilting in Tompkins County and to provide education and fellowship for the members." In August 1976 they put on an extraordinary Bicentennial Finger Lakes Quilt Exhibit, the largest quilt show to that date in the nation, displaying 600 quilts from fourteen Finger Lakes counties. It was attended by over 8,000 visitors from all over the country. Other programs of the Guild include quilt raffles, annual participation in the Ithaca Festival, and exhibits. The most recent was a display in October 2011 at Tompkins Cortland Community College, including some from The History Center's collection. The History Center is delighted to partner with the Tompkins County Quilters Guild to highlight some of the oldest quilts from the collection. For more information, please contact The History Center on 607 273 8284 x0 or visit us at
http://www.thehistorycenter.net/
###
The History Center is located east of the Ithaca Commons, at 401 East State Street, Ithaca, New York.
About The History Center in Tompkins County...
The History Center in Tompkins County helps people use the tools of history to understand the past, gain perspective on the present, and play an informed role in shaping the future. In order to accomplish this mission: we preserve and encourage access to The History Center's unique collections; seek out the diverse needs and interests of our community; design learning experiences and provide services that respond to those needs;  create opportunities for people to learn about themselves and their place in the world; and provide a neutral environment for public discussions that bring historical perspective to current issues.
Contact:
Laetitia de Freslon, Operations Manager       The History Center in Tompkins County 401 East State Street, Suite 100 Ithaca, NY, 14850 Tel: 607.273.8284 x6 E-mail:
community@thehistorycenter.net
Open hours: Tue, Thu and Sat 11am-5pm and by appointment. For more information visit:
http://www.thehistorycenter.net/