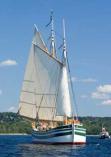 Canal Flagship Tugboat Urger Also on Display
Albany, N.Y.
- The majestic 88-foot canal schooner Lois McClure arrived at the Fort Edward Yacht Basin, Thursday, Sept. 22, as part of a tour of the Champlain Canal and Lake Champlain. After the stop in Fort Edward, the schooner will on to Schuylerville on September 26, where she will be joined by the 110-year-old tugboat Urger, the oldest state vessel operating on New York's waterways. The Urger will join the Lois McClure for the remainder of her 2011 tour. The flagship of the New York state Canal Corporation, the Urger now functions as a floating museum and a classroom for schoolchildren. The Lois McClure, an authentic replica of an 1862 canal boat, will be open for tours, free of charge, from 3 p.m. to 6 p.m. Thursday and Friday, and from 10 a.m. to 5 p.m. Saturday and Sunday. On Sept. 27-28, both the Lois McClure and the Urger will be open from 3 p.m. to 6 p.m. for free public tours at Hudson Crossing Park at Lock 5 in Schuylerville. Other ports of call that will feature both boats include Whitehall, Port Henry, Westport and Crown Point. For the complete schedule, please see the weblink
http://www.lcmm.org/our_fleet/lois_mcclure_schedule.htm
. Constructed in Burlington, Vt., and launched in 2004, the Lois McClure is an exact replica of an 1862 canal schooner designed to sail from lake cities to canal ports using wind power. Upon reaching a canal, the masts were lowered and centerboards raised to transform the vessel into a typical, shallow-draft canal boat.
###
Permalink:
http://readme.readmedia.com/Historic-Schooner-Lois-McClure-Tours-Champlain-Region/3016047?utm_source=newswire&utm_medium=email&utm_campaign=media_pr_emails
For more information contact: Office of Public Affairs, 518-436-2983