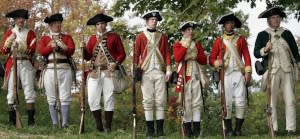 Unfold America's story at historic Hudson Valley landmarks.
Orange County, N.Y. –  Summer is the perfect time to explore the many Hudson Valley sites that played prominent roles in our nation's history. Discover how Orange County's location between the Hudson and Delaware rivers made it so strategically important during the Revolutionary War. Travel back through time to the 1700s. George Washington spent more time at his Newburgh headquarters than anywhere else during the war. Trace his steps to the New Windsor Cantonment where his famous "farewell address" was made. Visits to the homes occupied by his generals and tours of the forts where the continental army defended our freedom tell America's story better than any history book.
Battle reenactments, lectures and guided tours offer history-rich activities for the whole family to enjoy. Extend your visit with an overnight stay in one of Orange County's select hotels or charming B&Bs. The Orange County Tourism staff recommends visiting www.OrangeTourism.org for a full list of lodging, activities, and attractions. 
The top historic sites in Orange County, N.Y. include:
United States Military Academy at West Point, 2107 New South Post Road, West Point: Visit the West Point Museum. Bus tours, which include stops at some of the beautiful grounds of the Military Academy, leave from the Visitor's Center daily. Ferry service to the fortifications on Constitution Island and its charming Warner House leave from West Point's South Dock on designated weekdays through September. For more information, visit www.usma.edu and www.westpointtours.com.   
Fort Montgomery State Historic Site, 690 Route 9W, Fort Montgomery: This is where the fierce battle of 1777 for control over the Hudson River turned the course of the Revolutionary War. See a 15-minute film and view original artifacts and weapons. Special events feature costumed interpreters, and demonstrations of artillery, music and camp life. A hike past historic ruins will lead to beautiful views of the Hudson River. palisadesparksconservancy.org
Washington's Headquarters State Historic Site, 84 Liberty Street, Newburgh: Tour the Dutch-style stone Hasbrouck House that was home to George and Martha and served as Washington's Continental Army Headquarters. In 1850, the property became our nation's first public historic site. Inside the museum building, explore a separate interactive exhibit "Unpacked and Rediscovered" showing pieces taken from the museum's vast collection. palisadesparksconservancy.org
Knox's Headquarters State Historic Site, 289 Old Forge Hill Road, New Windsor: Once known as Mount Ellison, this elegant 1754 fieldstone mansion showcases the mix of English and Dutch influences in the Hudson Valley's history. During the Revolutionary War, the property served as a bustling military headquarters for some of Washington's highest-ranking officers, including Generals Knox, Greene and Gates successively. palisadesparksconservancy.org
New Windsor Cantonment State Historic Site and National Purple Heart Hall of Honor, 374 Temple Hill Road, New Windsor: The site of the final winter encampment of 8,000 soldiers, civilians and artisans during the closing days of the Revolutionary War. It has also recently become the site of the National Purple Heart Hall of Honor since it is here that Washington awarded the first badges of military merit. palisadesparksconservancy.org
Last Encampment of the Continental Army and Edmonston House, 19 Causeway Road, Vails Gate: In addition to replicated 1782 military huts, there are nature trails and an observation tower. Just around the corner, visit the restored 1755 Edmonston House with period exhibits, a blacksmith shop, and slave quarters. It was used as headquarters by Generals Horatio Gates and Arthur St. Clair.
Be sure to visit Orange County Tourism's Facebook page: Orange County Tourism NY. It's a fabulous guide to up-to-the-minute postings of area events and activities, great times, and memorable experiences available to visitors.
Also visit Orange County Tourism's innovative and user-friendly new website: www.orangetourism.org.
About Orange County Tourism
Orange County Tourism, based in Goshen, N.Y., is the county's tourism headquarters and a participant in the I LOVE NY program. A comprehensive listing of area attractions, lodging, and events can be found at www.OrangeTourism.org. For a free copy of the Orange County Travel Guide, e-mail tourism@orangecountygov.com or call 845-615-3860.
###
Photo feature: Fort Montgomery State Historic Site Revolutionary War reenactment.
For more information, contact:
Christine Cordova
Focus Media, Inc.
845-576-2242