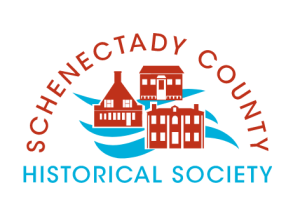 Schenectady, NY – A new public history project focused on Schenectady's African American history will preserve primary sources and enable future generations to engage with the community's historical records. Primary sources are the keys to understanding history, and access to those materials helps communities to connect to their past. The African American Historical Records Project, a collaboration coordinated by the Schenectady County Historical Society, will create a catalog of historical records created by the African American community in Schenectady.

"Our goal is to identify where those records are, what condition they are in, and how researchers can access them," explains Marietta Carr, SCHS Librarian. "We hope the catalog and the records uncovered during the project will become a foundation for future research, preservation, and education. African Americans have been part of Schenectady since colonial times, but their presence, activities, and experiences are significantly underrepresented in the collections available to the public in repositories like SCHS. Churches, community organizations, black-owned businesses, and individuals have their own historical collections. The catalog will connect those isolated collections and make them visible and available to the public."

The project has received a grant award from the Documentary Heritage Program, an initiative of the New York State Archives. Working with an advisory committee of prominent community members, SCHS will conduct a survey of historical collections and records. Record is a pretty broad term in this context. Carr adds, "There are a lot of different ways that people record their lives and experiences. We're looking for church records, organization or business records, diaries, oral histories, correspondence, photographs, videos, music, and art. We're open to all of sorts of items created by African Americans in Schenectady and connected to the community's history." 

Anyone looking for information on the African American Historical Records Project or wishing to participate in the survey should contact Marietta Carr at the Schenectady County Historical Society at 518-374-0263, option 3, or email her at librarian@schenectadyhistorical.org.


Advisory Committee Members
- Miki Conn
- Sophia Delamar
- Johan Matthews

- William Rivas
- Sarah Schmidt
- Walter Simpkins
- Philip Fields

About SCHS

The Schenectady County Historical Society is a private, not-for-profit organization with the mission to share stories, inspire dialogue, and encourage understanding of the history, people, and cultures of Schenectady County. SCHS brings to life the region's dynamic history through interactive exhibits, talks, concerts, education programs and community events for all audiences at the Mabee Farm Historic Site, the Grems-Doolittle Library, the Schenectady History Museum, and Brouwer House Creative. We remain open by appointment during the pandemic.
Contact: Marietta Carr, Librarian/Archivist
librarian@schenectadyhistorical.org // 518.374.0263 x3
32 Washington Ave, Schenectady, NY 12305