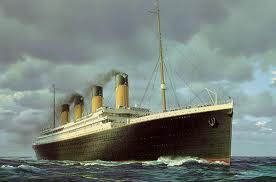 Oswego, N.Y.
- The Oswego County Historical Society will host its next lecture entitled "Morgan Robertson and the Wreck of the Titan" on Sunday, April 15
th
 at 1:30 p.m. in the community room of the Oswego Public Library at 120 E. Second St., Oswego. The program will be presented by Oswego native Ann Allen. A professor at LeMoyne College in Syracuse, Allen has studied the writings of Robertson, who was an author at the turn of the 19
th
 century. He was most famous for his book "Futility," later republished as the "Wreck of the Titan." Written in 1898, it was considered by many people fourteen years later to be a premonition of the Titanic disaster in 1912. The lecture will take place on the 100
th
 anniversary of the sinking of the ship in memory of the tragedy. "Morgan Robertson led a truly interesting life and it all began in Oswego,"said Justin White, president of the Oswego County Historical Society. "His story of the unsinkable Titan in his fictional account of 1898 is eerily similar in many ways to the real Titanic story of 1912." Robertson was born in Oswego in 1861 the son of Andrew and Ruth (Glassford) Robertson. His father was a sailor and later ship captain. In early life he followed his father's footsteps as a sailor, later becoming a self taught jeweler by trade. Encouraged to try his hand at writing, he learned that he had a passion and talent for telling stories of life at sea and the everyman. He became a nationally recognized author, publishing many works for distinguished publications such as the "Atlantic Monthly" and "Saturday Evening Post." "I encourage people to come learn about Robertson's life and writings. The stories of the premonition theories regarding the Titanic will be particularly appropriate on this day and are also fascinating," added White. This lecture is part of a series presented throughout the year by the organization. The event is free and open to the public. The Oswego County Historical Society is a non-profit organization founded in 1896 and dedicated to the collection, promotion and interpretation of the historical resources of the county. The Richardson-Bates House Museum, located at 135 E. Third St., Oswego, is open from April to December Thursday through Saturday from 1 - 5 p.m. and other days by appointment. For more information visit the society's website at 
http://www.rbhousemuseum.org/
 or contact the museum at 343-1342.
###
Contact
:  Justin White, 349-8460