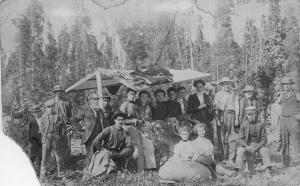 Scheduled for Wednesday, April 14, 6:30 PM
Utica, N.Y. – In the late 1800s Central New York grew eighty percent of the hops in the United States.  A number of factors brought a swift end to things about 1920, but that once great industry is striving to make a comeback. The Oneida County History Center will host Madison County Historian Matthew Urtz, who will discuss the rise and fall of the historic hop industry, and Chad Meigs, founder of The Bineyard hop farm in Cazenovia, who will share his adventures in modern hop farming on April 14, at 6:30 PM.
The event is free and open to all. Advanced registration is required and can be completed at https://www.oneidacountyhistory.org/programs.html. Registrants will receive a link and instruction on how to join this online event after registration is complete.
Madison, Oneida, Otsego, and Schoharie counties led hop production during it's "Golden Age." In 1890, the small independent farms of NY grew 40,000 acres, and shipped 3 million pounds of hops by canal and railroad, supplying breweries across the US and the world.
The recent growth of craft breweries in New York has mirrored the phenomenal growth across the country. There were fewer than 50 New York breweries 20 years ago, and more than 300 now.  Many want locally grown hops. A few entrepreneurial farmers are bringing back the industry to its roots.  Chad Meigs will share his work of running a commercial hop yard and processing service since 2013.
Matthew Urtz was appointed the Madison County Historian in April of 2010.  He serves on the Cabinet of Freedom for the National Abolition Hall of Fame and Museum, on the Board of Directors for the Preservation Association of Central New York. Urtz's articles have been published in multiple local and regional newspapers and magazines. 
The Oneida County History Center is a private 501(c) (3) not-for-profit educational institution dedicated to preserving the history, heritage, and culture of the Greater Mohawk Valley for present and future generations. Admission to this program is free for the general public; donations are encouraged. Please contact the History Center at 315-735-3642 or visit the OCHC website (www.oneidacountyhistory.org) for additional information.
###
Registration Link: Click Here
Photo Caption: Hop pickers with a load ready for processing, Waterville, NY
Oneida County History Center
1608 Genesee Street                                        
Utica, New York 13502-5425                          
315-735-3642                                                 
Contact:
Patrick Reynolds, Director of Public Programs
(315) 735-3642