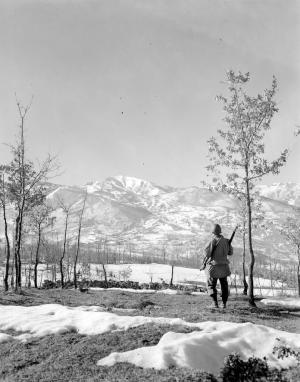 Utica, N.Y. – Join Hamilton College History Professor Maurice Isserman at the Oneida County History Center for an illustrated talk on his just-published book, The Winter Army: The 10th Mountain Division in World War II.  The ranks of the 10th were filled by men who in civilian life were already proficient in skiing and mountaineering. They were shipped to the Italian front and their actions in the Apennine Mountains and the Alps led to the German surrender in Italy on May 2, 1945. The division was disbanded in late 1945, but reestablished in the 1980s, and is based today at Fort Drum, in Watertown, New York.  
This program takes place in the History Center's main gallery on Saturday, December 7, 2019 starting at 1:00 PM.  Copies of The Winter Army will be available for purchase at the program.
Maurice Isserman is the Publius Virgilius Rogers Professor of History at Hamilton College. He holds a Ph.D. from University of Rochester and is a former Fulbright grant-winner.  He has written numerous prize-winning books including The Other American: The Life of Michael Harrington, and his co-authored book Fallen Giants: A History of Himalayan Mountaineering from the Age of Empire to the Age of Extremes.
The Oneida County History Center is a private 501(c) (3) not-for-profit educational institution dedicated to preserving and promoting the history, heritage, and culture of the Greater Mohawk Valley. Admission to this program is free for the general public; donations are encouraged. Please contact the History Center at 315-735-3642 or visit the OCHC website(www.oneidacountyhistory.org) or Facebook.com page for additional information.
###
 
Photo Caption: A 10th Mountain Division soldier in February 1945 standing below Riva Ridge in Italy's Northern Apennine Mountains. Courtesy of Denver Public Library.
Facebook Event Link: https://www.facebook.com/events/2447985112108460/
For Further Information:
Rebecca M. Mclain
(315) 735-3642
rmclain@oneidacountyhistory.org
 
Oneida County History Center
1608 Genesee Street
Utica, NY 13502
(315)-735-3642