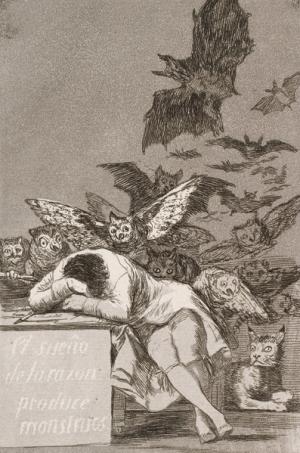 Francisco Goya: The Caprichos Etchings and Aquatints
January 19 to April 20
Dox Thrash, Black Life, and the Carborundum Mezzotint
January 19 to March 22
Glens Falls, NY – The Hyde Collection celebrates the works of two innovative printmakers from different eras with the opening of Francisco Goya: The Caprichos Etchings and Aquatints and Dox Thrash, Black Life, and the Carborundum Mezzotint on January 19.

Francisco Goya (1746–1828) was an artist very much at the cusp of two worlds: a medieval world of faith and feudalism, and a modern world of science and reason. He has come to be considered the last of the Old Masters and the first of the Modern artists. 

Using the privilege provided him as portraitist of the monarchy and aristocracy, Goya created a series of etchings that lambasted Spanish life at the end of the eighteenth century. Eighty of those works comprise Francisco Goya: The Caprichos Etchings and Aquatints, which will be exhibited in Wood and Whitney-Renz galleries from January 19 to April 26. 

The Age of Enlightenment that spread renewed hope on much of Europe hadn't quite reached Spain, so Goya took aim at what he saw as backward thinking: a church that hunted heretics, peasant superstitions, and the upper class's brutal treatment of the poor. The result is a body of work that skewers the hypocrisies, cruelties, and pretenses of Spanish society in a visual language readily discernible by all who saw it. Bats and cats represented nocturnal and infernal fears; owls were messengers of the gods; and donkeys suggested human frailties. 

"Spanish society was still, in some ways, rather medieval," said Jonathan Canning, The Hyde's director of curatorial affairs and programming. "Goya bluntly expresses his growing disillusionment. The power of his satire inspired subsequent generations, particularly the French artist Honore Daumier (1808–1879). Goya's searing visual critique of contemporary society is considered by many the beginning of modern art."
About Francisco Goya
Francisco Goya is regarded by many as the most important Spanish artist of the late eighteenth and early nineteenth centuries. Throughout a long and prolific career, Goya's art shifts from lighthearted to deeply pessimistic.

Goya studied under painter José Luzán Martínez (1710–1785), and grew into artistic maturity during the Age of Enlightenment. By the 1780s, he was frequently painting portraits of aristocrats. With symbolic imagery, he instilled in portraits a painterly quality that captured the true essence of his subject.
By age 40, Goya was appointed painter to Spanish King Charles III, and, in 1789, was promoted to court painter upon the succession of Charles IV. 

After battling an illness that robbed him of his hearing, Goya became increasingly cynical of what he deemed societal injustices. It was at this time he created The Caprichos. In part protected by his social standing as painter of the monarch, Goya further deflected accountability for the ideas expressed in the etchings by creating The Sleep of Reason Produces Monsters. The artwork shows the fantastical creatures that invade the artist's mind, particularly during his dreams. 

When France invaded Spain in 1808, Goya pledged allegiance to Joseph Bonaparte, and painted members of the French regime. After the fall of Napoleon in 1814, Ferdinand VII became king, then launched a reign of terror, revoking the liberal Constitution and reinstating the Inquisition.

When Goya was questioned about his loyalty, he showed his allegiance by commemorating Spain's uprising against the French in two paintings, The Second of May and The Third of May. Both seminal works — Goya's oeuvre — are now part of Museo del Prado's collection. 

He spent the final years of his life in France, where he died in 1828.

Francisco Goya: The Caprichos Etchings and Aquatints was organized by Contemporary and Modern Print Exhibitions.
The Museum's second exhibition, Dox Thrash, Black Life, and the Carborundum Mezzotint, also includes an element of social commentary, this time in early twentieth-century United States.

Years before the Civil Rights Movement forced white Americans to see the disparities between white and black America, Dox Thrash (1893–1965) brought to the nation an inside look at black life in a country torn apart by segregation.

The Hyde will offer Dox Thrash, Black Life, and the Carborundum Mezzotint from January 19 through March 22 in Wood and Hoopes galleries. The exhibition examines the artist's work portraying life in rural Georgia, urban Philadelphia, World War II, and chronicling the development of black artists and society as the walls of segregation began to crumble.

"It's unlikely that our Hyde audience will know the name Dox Thrash. But he was part of a movement of social realism that included John Sloan and Rockwell Kent, whom we exhibited recently," Canning said. "Thrash represented African American life as it was, using everyday subject matter."

Thrash was born in Georgia, fought in World War I, then studied at the Art Institute of Chicago. He settled in Philadelphia, where among a burgeoning black middle class he was the first African American artist to work at the Work Projects Administration's Fine Print Workshop, the only WPA community center focused exclusively on printmaking.

His exploration of printmaking led to development of the carborundum mezzotint, which allows for creating darker skin tones. In most printmaking, the artist starts with a light surface and creates dark layers. But Thrash did the opposite, starting with a black plate, abrading the surface, and rubbing it down to create lighter grays and whites.

"Carborundum printing gave Thrash the ability to create captivating scenes from his Georgia childhood and his swinging metropolitan Philadelphia adulthood," Canning said. "He was the black voice in a segregated country. We must celebrate his art so that he does not remain the black voice in a segregated American art history."

About Dox Thrash
Dox Thrash was raised on the outskirts of Griffin, Georgia, a small town midway between Atlanta and Macon. He quit school after the fourth grade, but indulged his love of drawing through correspondence courses.

Thrash arrived in Chicago in 1911, found work as an elevator operator, and enrolled part time in night classes at the Art Institute of Chicago in 1914. He left college to serve in the U.S. Army during World War I as part of the all-black unit proudly known as the Buffalo Soldiers. On November 11, 1918, the final day of the war, Thrash was wounded.

In 1919, he re-enrolled at the Art Institute. When he finished his education, he moved around the Northeast before settling in Philadelphia in 1926. He studied printmaking with Earl Horter at the Graphic Sketch Club (now the Fleisher Art Memorial).

At the height of the Depression in 1937, Thrash joined Philadelphia's Fine Print Workshop, a division of the government-sponsored Federal Arts Project, the massive work relief program designed for the thousands of unemployed artists. It was there, with fellow WPA artists Hubert Mesibov and Michael Gallagher, he discovered that carborundum, an abrasive used to refurbish lithograph stones, could also roughen the surface of a copper plate. Like the more labor-intensive traditional mezzotint printmaking technique, the new carborundum mezzotint method was able to produce a range of rich velvety tones.

In the early 1940s, Thrash became nationally recognized for his work depicting Georgia shanties, Philadelphia row houses, and female nudes.

For the next two decades, Thrash was a familiar figure in Philadelphia art circles, participating in exhibitions and workshops at the Philadelphia Museum of Art, the Print Club of Philadelphia (now the Print Center), and the Pyramid Club. He died in April 1965 and is buried in the United States National Cemetery in Beverly, New Jersey. 

Dox Thrash, Black Life, and the Carborundum Mezzotint was organized by Dolan/Maxwell
RELATED PROGRAMS
Saturday, January 18 — Member Opening 
The Hyde Collection celebrates the exhibitions Francisco Goya: The Caprichos Etchings and Aquatints and Dox Thrash, Black Life, and the Carborundum Print with a member-exclusive opening event. Learn more about the exhibitions, mingle with other art lovers, and enjoy light refreshments. RSVP to Chelsea at 518-792-1761, ext. 349, or csears@hydecollection.org. Not a member? No problem! Simply pay a $5 activity fee as well as Museum admission; if you decide to sign on as a member, both will be deducted off your membership fee. 2 to 5 pm
Saturday, January 18, February 8, and March 14  — Art and Yoga
In partnership with Summit Yoga, join a certified instructor for a relaxing workout inspired by the artworks of Francisco Goya. Bring your yoga mat and begin your morning with art and relaxation. Each session is $10 for members; $12 for non-members. 9 am
Sunday, January 19 — Special performance
Presenting masterpieces from the treasury of Isadora Duncan, the Museum will host Jeanne Bresciani and the Isadora Duncan International Institute Dancers with Professor Mary DiSanto-Rose and the Skidmore Duncan Dancers. Encounter solo, duet, and small-group performances on a self-guided tour through historic Hyde House. Free for Hyde members, and Skidmore faculty and students; free with Museum admission for non-members. 3 pm
Thursday, January 23 — Writing with Goya
Inspired by the symbolism of creatures and characters in Francisco Goya: The Caprichos Etchings and Aquatints, join author Johannah Davies Spero for an interactive writing workshop. Open to all skill levels; no formal writing experience necessary. $10 for members; $15 for non-members. 1 pm 
Saturday, January 25, February 15, and March 14 — Open Studio
Join Artist-in-Residence Elizabeth Zunon in the Art Studio to celebrate the artwork of Dox Thrash. Participants will create images inspired by Thrash's mastery of form, line, and shadow. A different technique will be explored in each of three monthly sessions led by Zunon. Each session is $15 for members; $20 for non-members. 10:30 am–1 pm  
Tuesday, January 28, February 4, and 11 — Applications of Art: The Carborundum Print 
Featured special exhibition artist Dox Thrash is known for the development of the carborundum print, a printmaking method. In this three-week series, participants will follow in the footsteps of Dox Thrash to create their own print in the style of a carborundum mezzotint. Supplies provided. $90 for members; $110 for non-members. 10:30 am–1 pm  
Friday, January 31 — Hyde Night Out: Monsters and Heroes
Enjoy a night at the Museum with fun themed games and refreshments inspired by our special exhibition, Francisco Goya: The Caprichos Etchings and Aquatints, and the permanent collection. With activities for all ages, this is an ideal fun night out, or a great date night activity. $15 for members; $20 for non-members; $2 per student. 5–7 pm  
Sunday, February 2 — Lecture
Wendy L. Johnston, associate professor of political science at SUNY Adirondack, will illuminate themes about weaponized art and evaluate the social and political commentary within the artworks of Francisco Goya: The Caprichos Etchings and Aquatints. Free with Museum admission. 2 pm 
Friday, February 7 — Art Crawl
On the first Friday of each month, babies and their caregivers are invited to play and learn in the Museum. Each program includes an activity designed especially for little ones with an art material exploration and play. Free, but donations are appreciated.10:30–11 am  
Friday, February 7 — Marking Memories
Once a month, in-home caregivers and individuals with dementia, early stages of Alzheimer's, and other cognitive challenges can participate in a free Museum visit program. A Museum educator will lead a conversation about an individual work of art and lead an art-making activity that encourages social interaction and communication. Free. RSVP by contacting Keri Dudek at kdudek@hydecollection.org or 518-792-1761, ext. 317. 2 pm  
Sunday, February 9, and March 8 — Art Lab
On the Second Sunday of every month, The Hyde offers free admission. From 1 to 3 pm, our educators host a free gallery and art-making activity that fosters creativity and collaboration among all ages; even adults without children will have a blast. Families and individuals can drop in to participate in an educator-led exercise challenging the expectation of what art is and how it enhances our lives. Free. 1–3 pm
Sunday, February 9 — The Black Fly
A live storytelling event with guest speakers from the community sharing their personal experiences inspired by the theme "Monsters and Dreams." The event is curated and produced by Art in the Public Eye and The Hyde Collection. Free. 3 pm
February 18–21 — Children's Workshop
Morning session from 10 am to 12:30 pm for children ages 5 to 8. Afternoon session from 2 to 4:30 pm for ages 9 and older. Children can attend one day or the whole week. $20 for members and $25 for non-members for one day; $60 for members and $80 for non-members for the week. 
Sunday, February 23 — Hyde Book Club Discussion
This winter, stay warm and curl up with a good book. Inspired by the images in Dox Thrash's prints of his Philadelphia community, we will be reading The Twelve Tribes of Hattie, a novel by Ayana Mathis. The book can be purchased at Northshire Bookstore in Saratoga Springs and, if you mention The Hyde Reading Club, you will receive a 20 percent discount. Join us for an in-gallery group discussion in which we will sit surrounded by the images of Dox Thrash and discuss Mathis's fictional story. Free with Museum admission. 1 pm 
Thursday, February 27 — Special tour
Join Hyde Collection staff for a special evening tour examining hidden and little-known facts about permanent collection and special exhibition artworks inspired by the theme of monsters and heroes. $15 for members; $20 for nonmembers. 6 pm
Thursday, March 5 — Murder Mystery Tour
Art in the Public Eye's themed mystery tour of Hyde House is back. Join the detective and tour guide as they investigate a colorful cast of suspects and the history of Hyde House artworks while trying to determine who killed Reginald Wayne. $15 for members; $20 for non-members. 6 pm 
Friday, March 20 — Save the Date for Live Soundtrack at The Park Theater 
Join The Hyde at The Park Theater for a special evening complete with the classic movie Frankenstein and live music by Scott Hannay. The showing is inspired by the Museum's latest exhibition Francisco Goya: The Caprichos Etchings and Aquatints, in which Goya's image of The Chinchillas is said to have inspired the classic monster's costume in the film. A cash bar will be available with a special themed cocktail and new beer release from Mean Max Brew Works.More details coming soon. 6:30 pm cocktail hour; 7:30 pm screening
Please RSVP to Hyde Collection events by contacting Sue at 518-792-1761, ext. 350, or frontofhouse@hydecollection.org