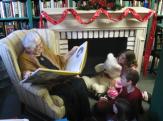 On December 13, 2008, the Hobart Book Village's Second Saturday event will be a Holiday Celebration Reading Afternoon.  From 1:00 p.m. to 4:00 p.m., at the Hobart International Bookport, Main Street, Hobart, New York, local readers have been invited to read to "children of all ages" stories relating to the upcoming holidays and the winter season.  Children, parents, relatives and total strangers are all welcome.  Take a break from shopping and come to Hobart to listen to a story.
Please visit www.hobartbookvillage.com or call 607.538.9080 / 3010 for further details.
For more information contact:
Dorothy Marshall, Reading Coordinator 607/538.1575
PHOTO CAPTION:  Book Villager Dorothy Marshall reads a story to Alexis, Matthew and Loren Tepfer, visiting the Hobart book stores from Jefferson.