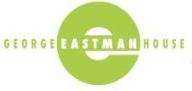 Sweet Creations Gingerbread House Display, a popular holiday tradition, to be the largest-ever with 100 confection creations
Rochester, N.Y. -
George Eastman House is your home for the holidays, with the 16th annual Sweet Creations Gingerbread House Display the largest yet, with more than 100 gingerbread creations on view, plus a roster of holiday films, the historic house elaborately decorated, Breakfast with Santa, and Holiday Homecoming.
Sweet Creations: Gingerbread House Display
George Eastman Houseinvites young and old to enjoy a feast for the eyes and nose - a display of more than 100 cleverly designed and decorated gingerbread houses. The Eastman House's annual gingerbread house exhibition, Sweet Creations, will be the largest display to date, on view Wednesday, Nov. 9 through Wednesday, Dec. 14. This exhibition has become a favorite holiday tradition for families. The gingerbread creations are produced by professional bakers, hobbyists, Scout troops, families, schools, and community groups. Some of this year's selections include the historic Dentzel Carousel, a holiday snow globe, and a snowmobile village. The exhibition also features a treasure hunt, involving the current entries, to provide additional entertainment for families and invite a closer look at the designs and details, as well as a Kid Corner for storybook reading. The gingerbread houses will be sold via silent auction, with proceeds benefiting future restoration projects at Eastman House. The Sweet Creations display, organized by the Eastman House Council, is supported by Tops Markets and Mapstone Financial Group. Included with museum admission.
Holiday Decorations
The gingerbread houses will be on display throughout the historic 1905 home of Kodak founder George Eastman. The house itself will be decorated for the season in turn-of-the-20th-century holiday style from mid-November through New Year's Day. Decorations include elaborately adorned grand staircase and fireplace mantel; a plethora of poinsettias; the formal dining room decorated for Christmas dinner; Christmas trees in every room Nov. 15 through Dec. 15 (decorated by local businesses and organizations and sold via silent auction); and an old-fashioned tree encircled by an antique toy train in the Living Room. In addition, Eastman House's annual Holiday Wreath Display & Auc¬tion will be on view Nov. 1 through 27. This year's selection features more than 25 wreaths donated by florists, garden clubs, and businesses, available for sale via silent auction.                                    
Pancake Breakfasts with Santa Claus and St. Nicholas
At 10 a.m. Sunday, Dec. 11, guests will be treated to a catered breakfast of pancakes, sausage, and all the trimmings, with breakfast will be followed by a visit from Santa Claus, who will pose for family photos in the Living Room of the decorated house. Guests also may also visit the gingerbread house exhibition, with the mansion open exclusively to them. Reservations are required and can be made at (585) 271-3361 ext. 249. Admission is $20 adults and $15 children. Hosted by the Eastman House Council.
Holiday Homecoming Celebration
Savor the seasonal spirit at George Eastman House's annual celebration from 5 to 8 p.m. Thursday, Dec. 8, that includes holiday decorations, the gingerbread house exhibition, live music, refreshments, and crafts, plus a visit from Santa Claus who will pose for special photos in the decorated Living Room (bring your camera!). Included with museum admission.
Holidays Film in the Dryden Theatre
The roster of holiday films includes Willy Wonka & The Chocolate Factory, It's a Wonderful Life, The Nightmare Before Christmas, Christmas in Connecticut, and Muppet Christmas Carol. Visit dryden.eastmanhouse.org for the full list. Regular Dryden admission: $8 adults/$6 children and students.
Count Down the New Year with Dryden Films
Count Down the New Year with a William Powell/Myrna Loy double feature in the Dryden Theatre, starting at 7 p.m. The screenings are The Thin Man (1934) and After The Thin Man (1936). Regular Dryden admission/one price for two films. Visit dryden.eastmanhouse.org.
Unique Gifts & Relaxing Cafe
The Eastman House Store featuresspecialty items for garden enthusiasts, film- and photography-related gifts, jewelry, toys, and books. You may also browse items online at www. eastmanhouse.org. After shopping, sit, relax, and enjoy a light meal, cappuccino, gelato, or other dessert at the Eastman House Café. (Museum admission not necessary)
For More Information
For information on holiday events, call (585) 271-3361 or visit eastmanhouse.org. Museum hours are 10 a.m.-5 p.m. Tuesday-Saturday; Thursday until 8 p.m.; 1-5 p.m. Sunday, (Closed Mondays, Thanksgiving, and Christmas Day) General museum admission: $12 adults; $0 seniors (60+); $5 students; and free children 12 and under. Dryden admission is $8 general admission/$6 children and students.
###
Media Contact:
Dresden Engle
dengle@geh.org
(585) 271.3361 ext. 213