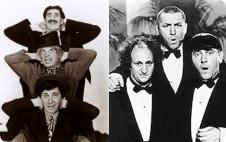 Gingerbread house display Sweet Creations, a popular Rochester holiday tradition, is on view Nov. 11-Dec. 16
Rochester, N.Y.
- George Eastman House is your home for the holidays, from the popular gingerbread house exhibition and holiday musicales to family films and pancake breakfasts with Santa and St. Nicholas:
Sweet Creations: Gingerbread House Display
George Eastman House invites young and old to enjoy a feast for the eyes and nose - a display of 70 cleverly designed and decorated gingerbread houses. The Eastman House's 14th annual gingerbread house exhibition, Sweet Creations, will be the largest display to date, on view Wednesday, Nov. 11 through Wednesday, Dec. 16. This exhibition has become a favorite holiday tradition for families. The gingerbread creations are produced by professional bakers, hobbyists, Scout troops, families, schools, and community groups. This season's clever confections include "Gingerbread Hill Vineyard & The Gum Drop Winery," the art-deco Hallman Chevrolet building, Geva Theatre Center, a Christmas treasure chest, a jack-in-the-box, the Candy Land® board game, and a gluten-free gingerbread cottage. The exhibition also features a treasure hunt, involving the current entries, to provide additional entertainment for families and invite a closer look at the designs and details. Most of the gingerbread houses will be sold via silent auction, with proceeds benefiting future restoration projects at Eastman House. The Sweet Creations display is organized by the Eastman House Council. The exhibition, which is included with museum admission, is supported by Tops Markets and Mapstone Financial Group.
Holiday Decorations
The gingerbread houses will be on display throughout the historic 1905 home of Kodak founder George Eastman. The house itself will be decorated for the season in turn-of-the-20th-century holiday style from Thanksgiving weekend through New Year's Day. Decorations include elaborately adorned grand staircase and fireplace mantel; a plethora of poinsettias; the formal dining room decorated for Christmas dinner; Christmas trees in every room (decorated by local businesses and organizations and sold via silent auction); and an old-fashioned tree encircled by an antique toy train in the Living Room. In addition, Eastman House's annual Holiday Wreath Display & Auction will be on view Nov. 3 through 29. This year's selection features more than 25 wreaths donated by florists, garden clubs, and businesses, available for sale via silent auction.
Pancake Breakfasts with Santa Claus and St. Nicholas
At 10 a.m. on two consecutive Sundays - Dec. 6 and Dec. 13 - guests will be treated to the tale of St. Nicholas, by the man himself in traditional attire, while enjoying a catered breakfast of pancakes, sausage, and all the trimmings. Breakfast will be followed by a visit from Santa Claus, who will pose for family photos in the Living Room of the decorated house. Guests also may also visit the gingerbread house exhibition, with the mansion open exclusively to them. Reservations are required and can be made at (585) 271-3361 ext. 249. Admission is $20 adults and $15 children. Sponsored by the Eastman House Council.
Holiday Musicales
Join us Sundays in November and December for live musicale performances, entertaining visitors just the way George Eastman used to. Included with museum admission. All concerts are 3 to 4 p.m.: Nov. 1: Joe Blackburn performs on George Eastman's pipe organ; Nov. 8: Gordon Porth performs on George Eastman's Steinway piano; Nov. 15: The Eastman School of Music Brass Quintet; Nov. 22: Sine Nomine Flute Choir; Nov. 29; Joe Blackburn, organ; Dec. 6: Amadeus Choral Youth Singers; Dec. 13; Kathy Wilkins performs holiday music; Dec. 20; Lyric Academy of Music; Dec. 27; Joe Blackburn, organ.
Holiday Homecoming Celebration
Savor the seasonal spirit at George Eastman House's annual celebration from 5 to 8 p.m. Thursday, Dec. 10, that includes holiday decorations, the gingerbread house exhibition, live music, refreshments, and crafts, plus a visit from Santa Claus who will pose for special photos in the decorated Living Room (bring your camera!). Included with museum admission.
Family Holidays Film in the Dryden Theatre
A Series of "Toy Stories" for the whole family will feature 2 p.m. matinees on three consecutive Sundays - Raggedy Ann and Andy: A Musical Adventure (Dec. 6), Small Soldiers (Dec. 13), and Babes in Toyland (Dec. 20). In addition, Judy Garland invites us to "Have Yourself a Merry Little Christmas" in Meet Me in St. Louis at 8 p.m. Saturday, Dec. 19 and Jimmy Stewart makes a run for it in It's a Wonderful Life at 8 p.m. Wednesday, Dec. 23. Regular Dryden admission.
Vintage Jewelry Trunk Show
An exhibition and "trunk show" sale, featuring the Carole Tanenbaum Vintage Collection of costume jewelry, will take place at Eastman House Dec. 3-5. This collection has been seen in films and on celebrities. The trunk show takes place 1 to 4 p.m. Friday and Saturday, Dec. 4 and 5, with a lecture and booksigning at 2 p.m. Saturday, Dec. 5. Included with museum admission.
Rochester on Film
Ed Stratmann, associate curator of Motion Pictures at George Eastman House, presents "Rochester on Film" at 1 p.m. Saturday, Dec. 19, featuring rare films from the vaults detailing Rochester history, including some local holiday-season films. Included with museum admission. Dryden Theatre.
Count Down the New Year with Dryden Films
Count Down the New Year with four days of comedies - all double features - at the Dryden Theatre. Screenings are at 2 p.m. and 7 p.m. beginning Dec. 28 and culminating with a night of the Three Stooges & Marx Bros. on New Year's Eve. Visit dryden.eastmanhouse.org.
Photography Galleries Focus on Rochester
Celebrate Rochester's 175th anniversary with hundreds of photographs of Rochester at work and play, including the oldest-known photo of Rochester, vintage postcards, Rochester "then and now," plus more than 400 photo submissions from the Rochester community. On view through Jan. 24, 2010. Gallery tours with archivist Joe R. Struble offered at 1 p.m. Saturday, Nov. 21 and Dec. 12. Included with museum admission.
Unique Gifts & Relaxing Café
The Eastman House Store features specialty items for garden enthusiasts, film-and photography-related gifts, jewelry, toys, and books. You may also browse items online at www. eastmanhouse.org. After shopping, sit, relax, and enjoy a light meal, cappuccino, gelato, or other dessert at the Eastman House Café. (Museum admission not necessary)
For More Information
For information on holiday events, call (585) 271-3361 or visit eastmanhouse.org. Museum hours are 10 a.m.-5 p.m. Tuesday-Saturday; Thursday until 8 p.m.; 1-5 p.m. Sunday, (Closed Mondays, Thanksgiving, and Christmas Day) General museum admission: $10 adults; $8 seniors (60+); $6 students; $4 children 5-12; and free for members and children 4 & under. Dryden admission is $7 general admission/$5 students and members.
Attn. Media:
For high-res images of past gingerbread creations and featured films, please visit
https://secure.eastmanhouse.org/pressroom