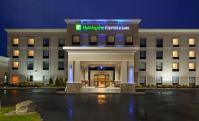 Hotel Staff tries to bring NY Foliage Tourism to the Malone area.
Malone, N.Y.
- The Holiday Inn Express & Suites of Malone has just launched a Fall Foliage package that is suited for drivers, motorcyclists, or bicyclists. The package includes a one-night stay at the Holiday Inn Express, a $10 gas card, daily weather report, folio of suggested routes and stops, and a discount on a second night if one chooses. The package is available until November 1. The folio of information includes four suggested routes for leaf-peepers ranging in time from 3 to 4 hours. All the routes take you through Franklin County and include a stop at the Paul Smith's Visitor's Interpretive Center. The routes also include popular hiking, biking, birding, and boating destinations with information on each. New York State is known for its vibrant colors during the fall and tourists from all over the world come to view NY foliage. Unlike the rest of the country, the northeastern U.S. is particularly blessed with a great variety of broad-leaved trees, which help give the region's foliage a spectacular color range. Also, New York State has almost as many acres of such trees as the rest of the Northeast combined. For New York State fall foliage reports visit
iloveny.com/fall
. "We want to get people into the Malone area and realize that there is so much to offer here. We're seeing that the Malone Golf Club and Titus Mountain are becoming household names for our leisure travelers, but we're hoping to expand Malone's credentials. We have some spectacular things to do and see
in Malone, and we hope that bringing in these travelers will also help our smaller local businesses," says Terry Hammond, General Manager of the hotel.
About the Holiday Inn Express & Suites of Malone
The Holiday Inn Express & Suites of Malone just celebrated its 2 year anniversary in July and has been honored with the overwhelming support & response received in the business community. The hotel is also a favorite hotel of choice with families and friends visiting the area.  The 81 rooms are spacious with all of the update amenities that savvy hotel travelers need, including items like High Speed wireless, 32" HD Flat Screen TV, large work desks with data ports, in room coffee makers, irons & ironing boards.  The hotel serves a signature Stay Smart breakfast daily with hot breakfast items like eggs, breakfast meats, biscuits & gravy, made to order pancakes & cinnamon rolls to mention a few items on the extensive offering. There is also a heated indoor pool & spa, fitness center and business center on property to help complete all of the guests needs. The hotel is smoke free & pet free.
###