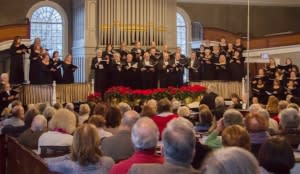 Share in some beautiful holiday music this Christmas season!
Orange County, N.Y. (December 10, 2018) – Need a break from holiday shopping? Relax to some beautiful seasonal music at unique venues around Orange County, N.Y.  From Yule-tide carols being sung by a choir to lighter tunes you know by heart, the sounds of the holiday season are filling the Hudson Valley with music.   
"Grab your loved ones and head to a local concert this holiday season," advises Orange County Tourism Director Amanda Dana. "You don't need to travel outside of Orange County to catch top-notch musical talent. Whether you're looking for holiday entertainment or inspiration, you'll find it right here. Come, relax, recharge, rejoice and sing-along!"  
The Orange County Tourism on-line events calendar, www.OrangeTourism.org/events, is jam-packed with holiday happenings.  Here are a few local concerts to catch before Christmas:
Maybrook Wind Ensemble's Fifth Annual Holiday Concert, Maybrook Senior Center, 111 Schipps Lane, Maybrook, Friday, December 14, 2018, 7:30 - 9:30 p.m.: Selections from Tchaikovsky's "The Nutcracker" and holiday classics as "Jesu Bambino" by Pietro Yon and "Chanukah Celebration" by S. Feldstein.  Holiday sing-along and "Most Creative Decoration" contest. Admission is free. www.maybrookwindensemble.org
Christmas Carols and Holiday Music at Pennings Farm, 161 State Route 94, Warwick, Saturday, December 15 and Saturday, December 22, 2018, 1:00 – 3:00 p.m.: Performance by the Warwick Valley High School Meistersingers on Dec. 15.  Local musician, Michael Purcell performs a full repertoire of favorite Christmas songs at a sing-along on Dec. 22. www.penningsfarmmarket.com
A Thrill of Hope, The Newburgh Symphonic Chorale Holiday Concert, Aquinas Hall, Mount St. Mary College, Newburgh, Saturday, December 15, 2018, 4:00 p.m. (Snow date: Dec. 16.): Lush orchestrations of holiday favorites and an incredible team of soloists. Repertoire will include Schubert's "Ave Maria," as well as "Greensleeves," "Jesu," "Joy of Man's Desiring," music of Hanukkah, plus secular songs like "Let it Snow," "White Christmas," and "Winter Wonderland." Audience invited to participate in the Finale medley. Tickets on line. www.newburghsymphony.org
Middletown Concert Chorale, North Congregational Church, 96 North Beacon St., Middletown, Sunday, December 16, 2018, 3:00 p.m.: Middletown Concert Chorale presents "Mid-Winter Songs." There will be many familiar holiday favorites. Reception with light fare to follow.  www.middletownconcertchorale.weebly.com
The Weary World Rejoices, Classic Choral Society 59th Annual Christmas Concerts with Hudson Valley Strings, Sunday. December 16, 7:30 – 9:30 p.m. t First Presbyterian Church, 33 Park Place, Goshen; Dec. 23, 4:00 – 6:00 p.m. at Blooming Grove United Church of Christ, 2 Old Dominion Road, Blooming Grove: The Classic Choral Society presents a joyful and uplifting program featuring 18 relatively short works including popular and lesser known carols. No tickets required; donations appreciated. www.classicchoralsociety.org
Visit www.OrangeTourism.org for a full list of lodging, activities, and attractions. Orange County Tourism's Facebook page, Orange County Tourism NY, is also a source of area events and memorable experiences available to visitors.
About Orange County Tourism
Orange County Tourism, based in Goshen, N.Y., is the county's tourism headquarters and a participant in the I LOVE NY program. A comprehensive listing of area attractions, lodging, and events can be found at www.OrangeTourism.org. For a free copy of the Orange County Travel Guide, e-mail tourism@orangecountygov.com or call 845-615-3860.
###
Photo features: Members of the Classic Choral Society perform at annual Christmas concert. (Credit: John Maney)
For more information, contact:
Christine Cordova
Focus Media, Inc.
845-576-2242