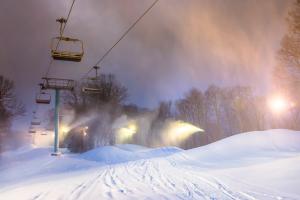 Ellicottville, NY. (Dec. 7, 2020) -- Thanks to Mother Nature's cold temperatures and snowmaking technology, Dennis Eshbaugh, the President and General Manager of Holiday Valley Resort announced today that the 2020-21 winter season will begin on Thursday morning, December 10th, 2020.
This most recent run of snowmaking has taken place since Saturday on over 12 of Holiday Valley's 60 slopes, with up to 245 snowguns running simultaneously. As of 11:00 AM Monday morning, over 144 acre feet of snow has been made. (An acre foot of snow equals one acre covered by a foot of snow). In order to open the slopes, the newly made snow needs to "cure" for a period of time, then be spread over the slope by grooming machines to make a smooth skiing surface.
Plans are to open at least 4 slopes, with terrain available for beginners, intermediates and advanced skiers and snowboarders. There will also be a few terrain park features set up in the Rail Park. Daytime beginner and private lessons will be available for skiers and snowboarders. Hot beverages and a limited menu will be available in 2 lodges. The resort will be open for day skiing only on Thursday, then day and night skiing starting Friday.
Holiday Valley is in compliance with New York State's COVID restrictions on operating the ski terrain and indoor services. Masks are required at all times except when skiing down the slope or while seated to eat or drink. Reduced capacity in the lodges and eating areas, as well as spacing in the lift lines and on the chairlifts will allow for proper social distancing. Advanced purchase of lift tickets online is encouraged, especially on holidays and busy weekends. Cleaning and sanitizing practices have been stepped up in the lodges, in the food service areas and in the restrooms. Guests are encouraged to limit their time spent indoors.
###
Contact:
Jane Eshbaugh Director of Marketing Holiday Valley Resort Ellicottville, NY 14731 716-699-3904