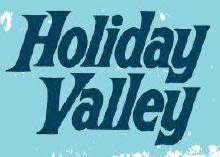 Ellicottville, NY (November 21, 2018) – Holiday Valley's President and General Manager, Dennis Eshbaugh announced that the resort will open for its 61st season on Friday, November 23, 2018. According to Eshbaugh, "It's the most exciting time of the year, a day that we plan for starting on closing day of the season before. Our snowmakers and groomers have been hard at work prepping the slopes. We've made over 65 acre feet of snow so far, with more to come." Eshbaugh credits the powerful and efficient HDK automated snowmaking system for producing this large amount of manmade snow in a short amount of time. Holiday Valley has the largest HKD automated snowmaking system in the Eastern US. Natural snowfall has been plentiful over the past week and a half, with more than 14 inches that created a beautiful snowy scene and blended with the manmade snow for an average base depth of 6 to 18 inches.
Four quad chairlifts: Yodeler, Mardi Gras, Tannenbaum and Creekside will operate from 9AM to 10PM on Friday, and then 8:30AM to 10:00PM on Saturday and Sunday. Nine slopes and trails: Yodeler, Edelweiss, Mardi Gras, Candy Cane Loop, Crystal, Tannenbaum, Ballet, School Haus West and the Rail Park will be open, with the possibility of additional slopes depending on current snowmaking. This list of slopes includes all levels of difficulty from Easier (green circles) to Most Difficult (black diamonds).The resort will continue to make snow to allow more slopes to open soon, with the goal of opening all 60 slopes and 13 lifts by mid-December. Ticket prices for Friday through the weekend will be $65 adults for 8 hours, $59 for 4 hours and $35 for nights starting at 3:30PM. Junior rates are $53/$47/$29.
About Holiday Valley Resort
Holiday Valley is Western New York's largest year 'round resort featuring 60 slopes and trails, 13 lifts, 3 base lodges, slope side lodging and dining, conference facilities, an 18 hole golf course, a tree top aerial adventure park and a mountain coaster.  Holiday Valley is New York State's most visited ski resort.  It is located on Route 219 just 50 miles (90 kms) south of Buffalo.  Visit www.holidayvalley.com or call 716.699.2345 to learn more.
For further information, please contact:
Jane Eshbaugh
Marketing Director
Tel: 716.699.3904
E-mail: jeshbaugh@holidayvalley.com