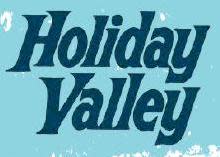 Ellicottville, NY (November 20, 2019) – Holiday Valley's President, Dennis Eshbaugh is pleased to announce the 2019-20 winter season will begin on Saturday, November 23rd. According to Eshbaugh, "With the cold temperatures we had ideal conditions last week and weekend to make a lot of snow, over 300 acre feet! We've let that snow cure and now we're grooming it out to make a nice smooth skiing surface. This allows us to open a week ahead of schedule for a preview weekend."
The resort plans to open 6 slopes with 3 lifts on Saturday at 8:30AM. Operations will continue to 10PM on Saturday, and again from 8:30AM to 4:30 PM on Sunday. The slopes will be closed Monday through Thursday, and then will open for the winter season on Friday, November 29th, weather permitting. Reduced ticket prices will be offered for this preview weekend at $45 adults, $35 juniors (age 7-11) for 8 hours and $42 adults, $32 juniors for 4 hours. Night tickets are $28 for adults and $25 for juniors. Beginner, intermediate and advanced terrain will be available. Limited services will be available.
Snowmaking was conducted on a total of 10 slopes using up to 230 snowguns at a time, thanks to Holiday Valley's automated snowmaking system where guns are centrally controlled by a computer. Holiday Valley has the largest automated snowmaking system of its kind in the East, allowing quick startups and shutdowns. The 300 acre feet Mr. Eshbaugh referred to means that enough was made to cover 300 acres with one foot of snow.
Saturday's open lifts will include Mardi Gras, Yodeler and Creekside Quad chairs and slopes include School Haus, Mardi Gras, Yodeler, Candy Cane, Crystal and Sugar Plum. Additionally the resort made snow on Morning Star, Cindy's, Sunrise and Tannenbaum and plans are to stockpile that snow until the 29th opening.
About Holiday Valley Resort
Holiday Valley is Western New York's largest year 'round resort featuring 60 slopes and trails, 13 lifts, 3 base lodges, slope side lodging and dining, conference facilities, an 18 hole golf course, a tree top aerial adventure park, a mountain coaster and a summer pool complex. 
Holiday Valley Resort in Ellicottville is on the web at www.holidayvalley.com. 
Ellicottville is located on Route 219, just 50 miles (90 kms) south of Buffalo and less than three hours from Cleveland and Toronto. 
Detailed media information is available at www.holidayvalley.com/media.
For further information, please contact:
Jane Eshbaugh
Marketing Director
Tel: 716.699.3904
E-mail: jeshbaugh@holidayvalley.com
Karl Eichner
Canadian Communications Consultant
Tel: 705.778.2212
E-mail: keichner@nexicom.net