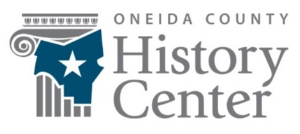 Gallery "Walk & Talk" scheduled for Monday, June 4, 6:00-7:30 pm
Utica, N.Y. – Utica is unique among upstate cities for its heritage of numerous intact garden residential neighborhoods designed by Olmsted Brothers Landscape Architects.  These century old garden neighborhoods today retain their aesthetic character, distinguished architecture, landscape design and vitality, significantly contributing to Utica's urban fabric. The rich architectural and landscape tapestry of the neighborhoods are an enduring testament to the collaboration between the Olmsted firm, the neighborhood developers, and local architects.
Home Sweet Home: Utica's Garden Neighborhoods, 1913-1929 explores the history of the South Utica neighborhoods designed by the Olmsted Brothers. This exhibit was created and installed by local architect Michael Lehman and former Oneida County Historian Virginia Kelly.  The exhibit opened in June 2015 and is scheduled to close on June 30, 2018.  Join us to celebrate Utica's architectural masterpiece one last time during the exhibit's final days.
Virginia and Michael will give a brief overview of the exhibit and history of the neighborhoods at 6:00 pm, followed by micro-tours of the exhibit until 7:30 pm.  Co-hosted by the Landmarks Society of Greater Utica.
This program takes place in the history center's main gallery on Monday, June 4 starting at 6:00 PM. Free and open to the public.
The Oneida County History Center, formerly the Oneida County Historical Society, is a private 501(c) (3) not-for-profit educational institution and is dedicated to preserving history and promoting the culture of the Greater Mohawk Valley. Admission to this program is free for the general public; donations are encouraged. Please contact the center at 315-735-3642 or visit the OCHC website (www.oneidacountyhistory.org) or Facebook.com page for additional information.
###
Contact:
Rebecca M. McLain
(315) 735-3642
rmclain@oneidacountyhistory.org
Oneida County History Center
1608 Genesee Street
Utica, New York 13502-5425