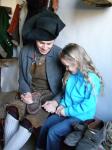 Ticonderoga, N.Y.
- Fort Ticonderoga's next Homeschool Day for homeschool students and their parents will be on Friday, September 6, 2013, from 9:30am - 5pm. Homeschool families will have an opportunity to take part in a series of programs while learning about life on the colonial frontier during the early days of the French & Indian War, centuries of horticulture history, and historic trades. Additional self-guided activities will highlight Fort Ticonderoga's world-known museum collections and include exploration in Fort Ticonderoga's six-acre corn maze, a life-size puzzle featuring the popular Archaeology Quest activity. "This multi-discipline, multi-dimensional Homeschool Day at Fort Ticonderoga is a wonderful opportunity for families and students to immerse themselves in Fort Ticonderoga's epic story, discover the site's stunning beauty and significant geographic location while they participate in active learning and critical thinking," said Beth Hill, Fort Ticonderoga President and CEO. "The program was launched last year with attendees travelling from as far away as Florida. We anticipate that we'll continue to see significant growth in this special program that engages students of all ages and broadens our educational reach." "During the day students will learn about the French troops who came to Ticonderoga in the fall of 1755 to begin construction of Fort Carillon," said Rich Strum, Fort Ticonderoga's Director of Education. "Interacting with these French soldiers, students can ask about the life of an 18
th
-century soldier. What did he eat? Where did he sleep? What did he wear? Where did his clothes come from?" "Throughout the day homeschool families can explore the Fort and museum exhibitions. They can take guided tours, learning about the Fort's history, and observe musket demonstrations. They can visit the historic trade's shop, where shoes and clothing are produced by the Fort staff, and discover connections between the global economy of the 1700s and today." In addition, special programs for homeschool groups take place in the historic trades shop at 10:30am, 12:30pm, and 2:30pm. Programs at 12pm and 1pm illustrate the process of feeding the troops as the mid-day meal is prepared. Students in grades 6-12 can learn about how to be a part of the National History Day program at 11:30am. In the King's Garden, students can participate in the "Lady Bug Investigators" program at 11am, 1pm, and 3pm, and take part in the self-guided activity "Watercolors in the Garden" from 10am to 4pm. In addition, Fort Ticonderoga's Heroic Corn Maze will be open for homeschool families from 12pm-4pm. To register your homeschool students to participate, please call Nancy LaVallie, Group Tour Coordinator at Fort Ticonderoga at 518-585-2821. The cost is $6 per student. One parent per family is admitted free of charge. Additional adults pay the adult group rate of $12. To learn more about programs for students and teachers at Fort Ticonderoga visit
http://www.fortticonderoga.org/
and select the "Explore and Learn" tab. Teachers interested in learning more about school programs, including outreach programs, should contact Rich Strum, Director of Education, at
rstrum@fort-ticonderoga.org
or at 518-585-6370.
FORT TICONDEROGA
America's Fort
TM
Located on Lake Champlain in the beautiful 6 million acre Adirondack Park, Fort Ticonderoga is a not-for-profit historic site and museum that ensures that present and future generations learn from the struggles, sacrifices, and victories that shaped the nations of North America and changed world history. Serving the public since 1909, Fort Ticonderoga engages more than 70,000 visitors annually and is dedicated to the preservation and interpretation of Fort Ticonderoga's history.  Accredited by the American Association of Museums, Fort Ticonderoga offers programs, historic interpretation, tours, demonstrations, and exhibits throughout the year and is open for daily visitation May 17 through October 20, 2013. The 2013 season features the Fort's newest exhibit
"It would make a heart of stone melt" Sickness, Injury, and Medicine at Fort Ticonderoga
which explores early medical theory, practice, and experience as each relates to the armies that served at Fort Ticonderoga in the 18
th
century.  Visit
https://mail.fort-ticonderoga.org/exchweb/bin/redir.asp?URL=http://www.fortticonderoga.org/
for a full list of ongoing programs or call 518-585-2821. Fort Ticonderoga is located at 100 Fort Ti Road, Ticonderoga, New York.
America's Fort is a registered trademark of the Fort Ticonderoga Association.
Photo:
 Homeschool families learn about historic trades as part of this year's program.  Homeschool Day at Fort Ticonderoga is Friday, September 6, 2013.
Contact:
Beth Hill 518-585- 2821
bhill@fort-ticonderoga.org