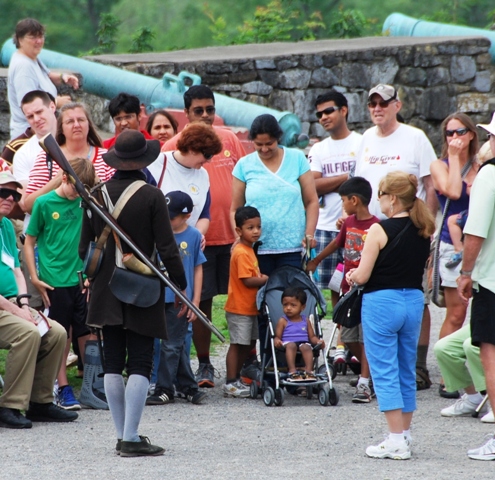 Ticonderoga, N.Y.
- Fort Ticonderoga has announced a day for homeschool students and their parents on Wednesday, October 17, from 9:30 am-5 pm. Homeschool families will have an opportunity to take part in a series of programs while learning about life on the colonial frontier during the early days of America's War for Independence. During the day students can learn about the Connecticut troops who came to Fort Ticonderoga in the weeks following the historic capture of the Fort from the British by Ethan Allen and Benedict Arnold. Interacting with these Connecticut soldiers, students can ask about the life of an 18
th
-century soldier. What did he eat? Where did he sleep? What did he wear? Where did his clothes come from? Throughout the day homeschool families can explore the Fort and museum exhibitions. They can take guided tours, learning about the Fort's history, and observe musket demonstrations. They can visit the new historic trades shop, where shoes and clothing are produced by the Fort's staff, and learn about the global economy of the 1700s. In addition, special programs for homeschool groups take place in the historic trades shop at 10:30 am, 12:30 pm, and 2:30 pm. Programs at 12 pm and 1 pm illustrate the process of feeding the troops as the mid-day meal is prepared. Students in grades 6-12 can learn about how to be part of the National History Day program at 11:30 am and 1:30 pm. To register your homeschool students to participate, please call Nancy LaVallie, Group Tour Coordinator at Fort Ticonderoga, at 518-585-2821. The cost is $6 per student. One parent per family is admitted free of charge. Additional adults pay the adult group rate of $12. To learn more about programs for students and teachers from Fort Ticonderoga visit
http://www.fort-ticonderoga.org/
and select the "Explore and Learn" tab. Teachers interested in learning more about school programs, including outreach programs, should contact Rich Strum, Director of Education, at
rstrum@fort-ticonderoga.org
or at 518-585-6370.
FORT TICONDEROGA
America's Fort
Located on Lake Champlain in the beautiful 6 million acre Adirondack Park, Fort Ticonderoga is a not-for-profit historic site and museum that ensures that present and future generations learn from the struggles, sacrifices, and victories that shaped the nations of North America and changed world history. Serving the public since 1909, Fort Ticonderoga engages more than 70,000 visitors annually and is dedicated to the preservation and interpretation of Fort Ticonderoga's history.  Accredited by the American Association of Museums, Fort Ticonderoga offers programs, historic interpretation, tours, demonstrations, and exhibits throughout the year and is open for daily visitation May 18 through October 18. The 2012 season features the Fort's newest exhibit
Bullets & Blades: The Weapons of America's Colonial Wars and Revolution
which highlights over 150 of the museum's most important weapons and is a comprehensive and expanded reinterpretation of its world renowned historic arms collection!  Visit
http://www.fort-ticonderoga.org/
for a full list of ongoing programs or call 518-585-2821. Funding for the 2012 season is provided in part by Amtrak.  Visit
http://www.fortticonderoga.org/visit/directions
for a special 2 for 1 Amtrak offer! Fort Ticonderoga is located at 100 Fort Ti Road, Ticonderoga, New York.
Photo:
Fort Ticonderoga hosts a day for Homeschool families on Wednesday, October 17th. Students will have the opportunity to participate in a number of specially-designed programs while learning about life at a frontier fort at the beginning of the American Revolution in 1775.
Contact
: Beth Hill 518-585- 2821
bhill@fort-ticonderoga.org