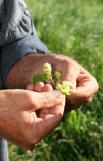 Cooperstown, N.Y.
  - On Saturday and Sunday, August 4 and 5, step back in time to when hops were king in central New York. Hops and Beer Weekend, next in the series of "Step Back in Time" Weekends at The Farmers' Museum in Cooperstown, is your opportunity to discover a plant with roots in local history. Walk a field of hops, tour a real hop house, and discover the importance of hops in New York State in the 1800s. Take the next step and watch a cooper making barrels and the process of brewing table beer and making yeast cakes.  At this celebration of hops and beer, meet modern-day hop growers from the Northeast Hop Alliance. Be sure to enjoy tastings from local breweries on Sunday afternoon and enjoy Ommegang cheddar beer soup all weekend. All "Step Back in Time" Weekends are held at The Farmers' Museum from 10:00 a.m. - 5:00 p.m. Entry is included with your paid museum admission: Adults and juniors (13-64): $12.00; seniors (65+): $10.50; youth (7-12): $6.00; children (6 and under): Free. NYSHA members are always admitted free, as are active-duty and retired career military.  Through Labor Day 2012, active-duty military and up to five family members are free, through the Blue Star Museum program. Visit
http://www.farmersmuseum.org/
for more information on the weekend.
###
Image:  Discover the history of hops in the region and meet modern-day hop growers at The Farmers' Museum's Hops and Beer Weekend, August 4 and 5.
About The Farmers' Museum
As one of the oldest rural life museums in the country, The Farmers' Museum in Cooperstown, New York, provides visitors with a unique opportunity to experience 19th-century rural and village life first-hand through authentic demonstrations and interpretative exhibits. The museum, founded in 1943, comprises a Colonial Revival stone barn listed on the National Register for Historic Places, a recreated historic village circa 1845, the Empire State Carousel, and a working farmstead. Through its 19th-century village and farm, the museum preserves important examples of upstate New York architecture, early agricultural tools and equipment, and heritage livestock. The Farmers' Museum's outstanding collection of more than 23,000 items encompasses significant historic objects ranging from butter molds to carriages, and hand planes to plows. The museum also presents a broad range of interactive educational programs for school groups, families, and adults that explore and preserve the rich agricultural history of the region.