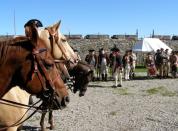 Ticonderoga, N.Y.
- Explore 18
th
-century holiday traditions at Fort Ticonderoga's 
Hot Chocolate at Cold Fort 
event! Visit with historic interpreters portraying Continental soldiers from Pennsylvania in 1776 and experience how very different Christmas at that time was compared to our modern holiday traditions.  Learn about Saint Crispin's Day from a shoemaker at the Fort and delight in the simple holiday pleasures the frontier garrison enjoyed.  Taste a sample of hot chocolate based on a recipe from the 18
th
-century and experience a celebration at Fort Ticonderoga in 1776 Saturday, December 3, 10 am - 4 pm.  Regular admission rates apply.  Ticonderoga residents are free. Much of Ticonderoga's 1776-1777 winter garrison was composed of soldiers of the 4
th
 Pennsylvania battalion.  The soldiers were from the vicinity of Chester,Pennsylvania. In large part they were Quaker or Anglican. For the few Anglicans among these men, Christmas was an occasion for a feast, but not an extraordinary one. For the Quakers, who largely rejected Anglican traditions, Christmas was a day like any other.  However, just as today's American troops serving in foreign lands seek comfort in simple pleasures during the holidays, the 4
th
 Pennsylvania battalion soldiers at Fort Ticonderoga heartily enjoyed basic comforts that reminded them of home. See the officer's mess enjoy roasted mutton prepared by their paid servants in the regiment inside the old French Fort. Witness how the harsh realities of the American War for Independence were relieved as soldiers too sick for duty received mutton broth and medicinal chocolate to help fortify them against combat camp distempers. Experience, the camaraderie that soldiers shared as they faced a long winter together huddled around a steaming kettle of rations over a hot fire. By the end of November 1776, Ticonderoga was covered by winter's first blanket of snow.  The 3500 men remained to garrison Fort Ticonderoga, MountHope, and Mount Independence under the command of Colonel Anthony Wayne watched wearily as Massachusetts and New York militia troops departed for home at the end of their terms of enlistment.  Other Continental troops departed to join General Washington in the milder winter climate of New Jersey.  Settling in for a long winter guarding Lake Champlain from attack, Colonel Wayne moved the men of his 4
th
 Pennsylvania battalion into the sparse comforts of the Fort's stone barracks. To learn more about 
Hot Chocolate at a Cold Fort
 visit 
http://www.fortticonderoga.org/
 or call 518-585-2821. This unique holiday experience at Fort Ticonderogais part of the Second Annual North Country Christmas week-long celebration, November 28 - December 4. For details on the North Country Christmas visit
www.ticonderogany.com
.
FORT TICONDEROGA
America's Fort
Located on Lake Champlain in the beautiful 6 million acre Adirondack Park, Fort Ticonderoga is a private not-for-profit historic site and museum that ensures that present and future generations learn from the struggles, sacrifices, and victories that shaped the nations of North America and changed world history.  Accredited by the American Association of Museums, Fort Ticonderoga offers programs, historic interpretation, tours, demonstrations, and exhibits throughout the year and is open for daily visitation May through October. A full schedule and information on events can be found at 
www.fort-ticonderoga.org/
 or phone (518) 585-2821. Fort Ticonderoga is located at 100 Fort Ti Road Ticonderoga, New York.
Photo:  Continental Soldiers are reviewed by Command staff at Fort Ticonderoga.
CONTACT
: Beth Hill, executive director Fort Ticonderoga 518.585.2821
bhill@fort-ticonderoga.org
Kimberly Rielly, director of communications Lake Placid CVB / Regional Office of Sustainable Tourism Lake Placid, Adirondacks USA 518.637.6559    Twitter: @krielly