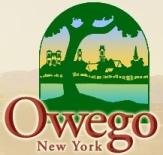 It's official - New York State's Owego is the Coolest Small Town in America
Arthur Frommer's
Budget Travel
magazine Editor-in-Chief, Nina Wooldorf made the announcement yesterday morning on the CBS Early Show that the Finger Lakes town had beaten out the other four finalists.  The contest, conducted by the magazine, began in early February and ended April 3.  Over 100,000 total votes were counted for the 22 towns selected by
Budget Travel
from 152 nominations that were submitted.  Over 20,000 votes for Owego were cast, and numerous comments, photos and videos were sent in by citizens, friends, supporters and visitors of this beautiful village.   According to Wooldorf, in order to be named the "Coolest Small Town in America," that town had to be a place where 1) you can find a great cup of coffee and good restaurants, 2) when people leave the small town to go to the city, they realize they've made a big mistake, and 3) there are great art galleries and country shops. Wooldorf also described Owego as a place where there is "gorgeous outdoor beauty, fierce local pride, a picture postcard town, and has beautiful historic architecture." She said they were looking for real "Main Street America."
Budget Travel
magazine will also feature Owego in their October issue this year.  The magazine is distributed to over 630,000 subscribers and their
http://www.budgettravel.com/
Web site gets over 1.8 million unique page views per month. To celebrate, everyone is invited to come to Owego tomorrow (April 17) for a town celebration.  The Jail House Restaurant, Court and Main Street, is hosting a celebration of cake and offering a free "Toast to Cool Owego" at 5:30 pm.  In addition, this Friday is the Third Friday Art Walk in the Village so the shops, galleries and restaurants are open late for business as well. So, make sure you come visit Owego - it's the Coolest Small Town in America!