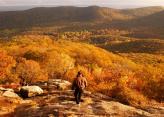 Color your autumn in Orange County, N.Y.
Orange County, N.Y.
- Fall is not just a season in Orange County, it's an experience of the senses. See it, smell it, taste it. Have fun with it! Just an hour north of Manhattan, there are happenings ready to turn autumn into your favorite season, if it's not already. It's harvest time. The leaves will be brilliant and so will you if you just follow these simple instructions.
Sink your teeth into it.
 There's nothing like a crisp, juicy apple just plucked from the tree. Taste the fruit at all eleven pick-your-own apple orchards in Orange County. Each has its own delicious flavor of fun in store. The expansive Masker Orchards lets you drive right to the tree. Lawrence Farms has a kiddie train and other u-pick crops. Applewood, Pennings, Soons, and Warwick Valley have wonderful hard cider. All of the orchards have gorgeous scenery and special family weekend festivities. Take a bite of the granddaddy of apple celebrations at Applefest in Warwick on Sunday, October 6
th
when hundreds of vendors, music, entertainment and the aroma of fresh baked apple pie fill the historic village, conveniently close to the Warwick Valley Apple Trail.
Hike and bike
. The Appalachian Trail runs through three beautiful state parks in Orange County: Bear Mountain, Harriman, and Sterling Forest. Any trek you take leads to astonishing views of the fall foliage. After your hike at Bear Mountain, follow the trail to the Oktoberfest on weekends and Columbus Day through October 27
th
. Hikers and bikers will also discover fantastic views from Route 218, Storm King Highway. The mountain stretch between Cornwall-on-Hudson and West Point's Washington Gate is closed to vehicular traffic on Sundays from 10 to 2 until November 17
th
, except on September 29th. Take it a little easier on the Heritage Trail, a paved rail trail that winds past fields and woods from Museum Village in Monroe through historic downtown Chester to the Harness Racing Museum and Hall of Fame in Goshen. This hidden gem is dotted with casual eateries and fun fall happenings.
Go pumpkin picking.
River to river, from the Hudson to the Delaware, Orange County's farm fields are dotted with bright orange pumpkins of all sizes and shapes just waiting to be transformed by your carving tools or paint brushes. On weekends, many farms will take you on a hayride to the pumpkin patches so you don't have to worry about carrying your prize picks back. Manza Family Farm in Montgomery is one that also offers pony rides, a straw maze, farm animals and a farm stand on Saturdays and Sundays throughout October. At Wright Family Farm in Warwick and Pierson Farm in Middletown lose yourself in a carefully crafted corn maze after a jaunt to the Jack o'Lantern field.
Cruise the Hudson Highlands.
No rose colored glasses are needed for this trip. The reds, oranges and golds of the majestic Hudson Highlands are brilliant this time of year. Relax aboard the sleek "Pride of the Hudson" or the paddle-wheeler "River Rose" and be inspired by the same views that inspired the Hudson River School painters. Float past the landmark Storm King Mountain and mysterious Bannerman Castle during a two-hour narrated sightseeing tour between Newburgh Landing and West Point. Cruises depart from the Newburgh Waterfront where dining on any of the restaurant patios gives you spectacular views, not to mention great food.
Take an Open Studio Tour.
Go on a treasure hunt along winding country roads decked in blazing fall hues. The free, self-guided Orange County Arts Council Open Studio Tour spans twos weekends this year, October 12 &13 and 19 & 20. Request a brochure, or follow the on-line map to 65 different artists' studios to witness creativity coming to life. Find beautiful handmade jewelry, paintings, sculpture, and pottery at every turn. Meet the talented artists, arrive at fabulous places you didn't even know existed, and get a jump on your holiday shopping. From every angle, an open studio tour is a colorful eye-opening autumn experience.
Tailgate at an Army Football Game. 
Did you know that
Sports Illustrated
named West Point's Michie Stadium one of the best college tailgating scenes? That's because Army traditions are so inspiring and the scenery is fantastic. Friends and family who gather regularly to break bread before a game at the country's oldest military academy agree that there's nothing like it anywhere. The views from this pristine campus overlooking the Hudson River are unrivaled. Do a potluck or have your tailgating event catered. See a cadet parade on game day and watch the parachute team land in the stadium with the game ball. The Black Knights have two remaining home games this season on October 12
th
and November 9
th
.  Come cheer them on and feel the excitement!
Get festive. 
In addition, to the Bear Mountain Oktoberfest and Warwick Applefest, one of the Hudson Valley's largest and most popular fall festivals happens over Columbus Day weekend. Sweeten your autumn with a visit to the Sugar Loaf Fall Festival. The quaint hamlet of Sugar Loaf is home to one of the nation's oldest art and craft communities. During this special event, street vendors and musicians add lively fun to the permanent collection of artist studios, craft shops, galleries and restaurants housed in buildings dating back to the 1700s. Take the advice of the locals and come loaf in Sugar Loaf.  There are three full days to enjoy the festivities on October 12
th
, 13
th
and 14
th
. Experience fall! Find the complete list of itineraries, attractions, lodging, and events to color your season at
http://www.orangetourism.org/
. For a free copy of the Orange County Travel Guide, email
tourism@orangecountygov.com
or call 800-762-8687.  Orange County Tourism is headquarters for tourism in the county and is part of the
I LOVE NEW YORK
program.
EVENT RESOURCES
Army Football, West Point. 845-446-4996,
http://www.goarmysports.com/
Bear Mountain Oktoberfest.
845-786-2731,
http://www.visitbearmountain.com/
Open Studio Tour, Orange County Art Studios. 845-469-9168,
http://www.ocartscouncil.org/
Storm King Bike and Hike. 845-534-3010,
https://www.facebook.com/Storm-King-Bike-and-Hike
Sugar Loaf Fall Festival. 845-610-3740,
http://www.sugarloafnewyork.com/
Warwick Applefest 2013.  845-987-8300,
http://www.warwickapplefest.com/
Warwick Valley Apple Trail.
http://www.warwickvalleyappletrail.com/
.
Contact
: Mary Ann McCarthy(845) 615-3860
mmccarthy@orangecountygov.com