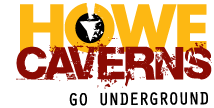 Howes Cave, N.Y.
- Howe Caverns Adventure Park will host its annual Job Fair from 9 a.m. to 1 p.m. on Saturday, March 31. It will take place in the Café, located in the Visitor Center at 255 Discovery Drive. The Job Fair is open to everyone ages 16 and older. Full- and part-time positions are available for the 2012 season. "As a result of our 2011 expansion and the development above ground with
Howe High Adventure
-- adding the Sky Trail ropes course and zip line -- we actually created 96 new positions," said General Manager Robert Holt. "This year, we'll be adding an air jumper, rock climbing wall and New York State's first
H2OGO course. We anticipate that these new items will create 20 additional positions," Mr. Holt said. For candidates 16 and older, available positions include cave tour guide, photographer, parking lot/greeter, retail clerk and motel housekeeper. For applicants 18 and older, jobs include gem/geode attendant, custodian, Café front counter, dishwasher, Motel front desk clerk and Ticket Office clerk. Operators also are needed for Sky Trail Ropes course, zip line, air jumper, rock climbing wall and the H2OGO. Details of the available jobs, as well as an application for employment, are posted at
howecaverns.com.
For more information, call Howe Caverns at 518-296-8900 or visit the website.
ABOUT HOWE CAVERNS ADVENTURE PARK
Howe Caverns, the largest cave open to the public in the Northeast, is a unique feature in what is now known as Howe Caverns Adventure Park. Howe Caverns (the cave) is located midway between Albany and Cooperstown, off Exit 22 of I-88. Open daily, except Thanksgiving and Christmas days when it is closed, Howe Caverns' winter hours are from 9 a.m. to 5 p.m. from November 1 through March 31. Summer hours are from 9 a.m. to 6 pm from April 1 through October. Howe High Adventure -- an outdoor recreation area on the Howe Caverns estate -- opened in the summer of 2011 and features a four-tower zip line and a Sky Trail ropes course. New attractions for 2012 include an air jumper, a rock climbing wall and H2OGO Balls. Scheduled to open in late spring are the  new Gem & Mining Building and picnic pavilion. For more information, visit
howecaverns.com
or call 518-296-8900.
###
MEDIA CONTACT:
Kathy Condon * Condon Communications PH: 518-436-1103 CELL: 518-441-0259
condonkathy@gmail.com