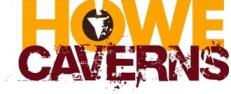 HOWES CAVE, N.Y. --
   April marks the 40
th
anniversary of Earth Day. At Howe Caverns, a special Earth Day celebration takes place on April 3, with the opportunity for everyone to really get into the earth with exciting programs. "For our Earth Day, we'll be offering special Kids' Geology Tours that explore the great living, limestone cave and showcase the world of fossils, the
geological
timetable for the cave's creation and much more," said Howe Caverns General Manager Robert Holt. These special geological tours, by reservation only, take place at 10:30 a.m. and at 2 p.m. As part of the celebration, Howe Caverns also will have a wildlife program at 1 p.m. with a focus on why the bat population is imperiled by
White-Nose Syndrome
and what each person can do to help. There also will be the opportunity for everyone to get a taste of what it is like to explore a very narrow natural-type cave as they enter the "squeezebox."
Gemstone mining
is another feature of the day, as is an arts and crafts activity area. Howe Caverns also is offering a special overnight
package
  at the on-site, AAA-rated
motel
. The great cave also will have
Traditional Caverns Tours
available from 9 a.m. to 6 p.m. The
Café
will be open throughout the day. To make reservations for the Kids' Geology Tours on April 3, please call 518-296-8900.
***
Howe Caverns is located between Albany and Cooperstown, off I-88 at Exit 22. Howe Caverns is open daily (except Thanksgiving and Christmas Day). Hours are from 9 a.m. to 6 p.m. from April through October. From November through March, the hours of operation are from 9 a.m. to 5 p.m. For more information, call 518-296-8900 or visit
http://www.howecaverns.com/
.
###
MEDIA CONTACT
: Kathy Condon * Condon Communications PHONE: (518) 436-1103 E-MAIL:
condonkathy@gmail.com