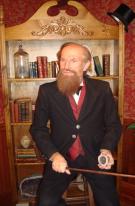 Howes Cave, N.Y.
- Howe Caverns discoverer Lester Howe has returned to his caverns in animatronic form for an all-new pre-tour show in which he regales visitors with his stories of the great wonder that bears his name. The new show precedes all Traditional Tours at Howe Caverns and was officially introduced today at Schoharie County's landmark attraction. Designed by themed entertainment designer and world-leading animatronics creator Garner Holt Productions, Inc. of San Bernardino, CA, the pre-tour experience showcases techniques more often found in places like Disney World. "Untold hours have gone into creating a show that is historically accurate and entertaining," said Howe Caverns General Manager Robert Holt. "We've researched Lester Howe's speech patterns, hair color (red) and every detail to make this an extraordinary experience for our visitors before they enter his treasured cave." Before making the 156-foot descent into the caverns, visitors meet Lester Howe in his study -- complete with Victorian-era furnishings, rocks and minerals, as well as artifacts and souvenirs from his Cave House Hotel. In addition to the animatronic figure, a special-effects-laden map outlines the tour path for visitors. A painting in his study comes to life via animation as the story of discovery unfolds. "I was purely smitten by the place, so I bought it from (my neighbor Henry) Wetsel for a handsome sum of one hundred dollars cash," Howe says.  "A shrewd deal, you will agree. Ha, ha, ha! Best investment I ever made." And, he reminds his visitors to "Savor your time in these timeless caves." Production of the new pre-tour show began in 2010, the bicentennial of Lester Howe's birth in Decatur (Otsego County). Garner Holt's designers had to sculpt Howe's face and head using the only known pair of photographs of the 19th-century explorer and entrepreneur.  They also consulted Howe family genealogies and historic accounts.  Additional research included interviews with historians and dialect experts to learn what he might have looked and sounded like during the 1840s -1870s when he personally hosted intrepid visitors.  His costume is one he wore in an 1850s photograph at the cave entrance. The new pre-tour show is the first of many new things to do and see coming in 2011 to Howe Caverns as it introduces Howe High Adventure -- the new development on Howe Caverns 400-acre estate. Howe High Adventure includes a ropes course, four zip lines and a three-season picnic pavilion.   A new building will house the Howe Caverns Mining Company, featuring a Patty Tobin Fine Fashion Jewelry Boutique.
About Howe Caverns
Howe Caverns is the largest cave open to the public in the Northeast and welcomes close to 170,000 guests each year. Howe Caverns is located midway between Albany and Cooperstown, off Exit 22 of I-88. Open daily, except Thanksgiving and Christmas days when it is closed, Howe Caverns' winter hours are from 9 a.m. to 5 p.m. from November 1 through March 31. Summer hours are from 9 a.m. to 6 pm from April 1 through October 31.  For additional information, call 518-296-8900, or visit
http://www.howecaverns.com/
.
About Howe High Adventure
Howe Caves Development LLC launches the first phase of new attractions coming to the 400-acre Howe Caverns Estate. Called Howe High Adventure, new attractions coming in 2011 include a ropes course, zip lines, a new building for the Howe Caverns Mining Company and a 250-seat picnic pavilion. Additional phases in the planning stages include the development of Howe Dinosaur Canyon, complete with animatronic dinosaurs and featuring a huge Tyrannosaurus Rex.
About Garner Holt Productions, Inc.
Garner Holt Productions, Inc. is known worldwide for design and manufacture of outstanding animatronics, show action equipment and special effects.  Clients include Disney theme parks, Universal Studios, Movie Park Germany, Coca-Cola, NASA, Pacific Science Center, San Diego Museum of Natural History and Science City in Egypt. Founded in 1977, the company owns and operates a 60,000 square foot full-service design and manufacturing facility in San Bernardino, California. Recent awards include the prestigious THEA, presented by TEA (Themed Entertainment Association) for Finding Nemo Submarine Voyage at Disneyland. For more information about Garner Holt Productions, visit
http://www.garnerholt.com/
.
###
Contact
: Kathy Condon PH: 518-436-1103 CELL: 518-441-0259
condonkathy@gmail.com