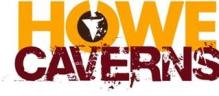 Howes Cave, N.Y.
- Four Howe Caverns' employees recently were recognized for their service during the annual Employee Banquet and Awards Ceremony at the Best Western Inn, Cobleskill. The landmark Schoharie County attraction also welcomed 96 new employees to its ranks, including 40 staffers at Howe High Adventure. For their tenure at Howe Caverns, three Tour Guides each received their awards for five seasons of service. They are: Gwen Girsdansky of Cobleskill, Erika McLaughlin of Richmondville and Ashley Weingarten of Warnerville. Louise Hartman of Cobleskill also marked five seasons of service as both a Tour Guide and Motel Front Desk Clerk. "Each year since the 1930s,  Howe Caverns  taken time to recognize the service that our employees have given," said General Manager Robert Holt, adding: "And, we're delighted to welcome our new employees who are so important to the expansion at Howe High Adventure."
###
About Howe Caverns
The second most-visited natural attraction in New York State, Howe Caverns is located off Exit 22 of I-88, between Albany and Cooperstown. It is open daily, with the exceptions of Christmas and Thanksgiving Day when it is closed. During the 2011 season, Howe Caverns welcomed Howe High Adventure to its Schoharie County home. A four-tower Zip Line and Ropes Course are new additions. Under construction are a 250-seat, three-season picnic pavilion and a 6,000-square-foot, all-weather Gem & Mining Building. For more information about all there is to see and do at Howe Caverns, call
518-296-8900
or visit
http://www.howecaverns.com/
.
###
MEDIA CONTACT:
Kathy Condon/Condon Communications PH:
518-436-1103
CELL:
518-441-0259
E-MAIL:
condonkathy@gmail.com
8/2010