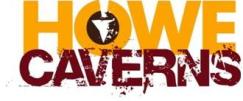 HOWES CAVE, N.Y.
-- New video of Howe Caverns has captured an Award of Excellence for its use in cinema advertising and in an online video campaign in the Commercials/Amusements/Entertainment category of the 2009 Videographer Awards.Smith and Jones' Wanderlust division, headquartered in Troy, directed and produced the award-winning work. All the footage was shot in High Definition on location at Howe Caverns. The video also is being used in television commercials, with a long-form video available via cable's Video on Demand. The video will be seen in cinema advertising and online via YouTube, metacafe and other sites. A portion of the video is posted at http://www.howecaverns.com/content1069. The long-form video tells the Howe Caverns story and will be available this summer as a souvenir DVD at Schoharie County's landmark attraction. The Videographer Awards are administered and judged by the Association of Marketing and Communication Professionals. The organization consists of marketing, communications, advertising, public relations, media production and freelance professionals from around the world. Judges are industry professionals. The Award of Excellence is the highest honor in the competition, this year attracting approximately 1,800 entries from the United States and other nations. For more about the awards and a list of winners, visit
http://www.videoawards.com/
. About Howe Caverns Howe Caverns is New York State's second most-visited natural attraction, located about 45 minutes southwest of Albany, off Exit 22 of I-88, between Albany and Cooperstown.  Open daily, except Thanksgiving and Christmas days, Howe Caverns is open from 9 a.m. to 6 p.m.  through October, and from 9 a.m. to 5 p.m. from November through February. For additional information, call 518-296-8900, or visit
http://www.howecaverns.com/
About Wanderlust Wanderlust is a travel industry marketing agency. We help our clients understand what drives people to desire their brands and build integrated marketing communications programs to fuel that desire. Our clients include mountain resorts, attractions, municipalities, eco-tourism and other leisure and adventure destinations.  
http://www.createwanderlust.com/
###
Media Contacts: Howe Caverns Kathy Condon 518.463.1103
kcondon@netheaven.com
Wanderlust Mark Shipley 518.272.2500