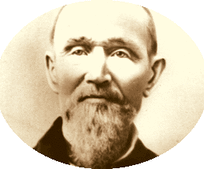 Howes Cave, N.Y.
  - The New Year 2010 marks the 200
th
anniversary of Howe Caverns' discoverer Lester Howe's birth. And, Howe Caverns is planning a new tour and several special events to celebrate this bicentennial. "During Discovery Days -- from May 21 through May 23 -- we'll be introducing a new lantern tour that features a Lester Howe re-enactor and music. He was known for playing the fiddle in the Caverns, so we'll be stepping back in time to offer our guests a unique taste of yesterday's tours," said General Manager Robert Holt. Lester first entered the cave on May 22, 1842. "So, it's a very appropriate date to launch the new tour," Mr. Holt said.  Throughout 2010, "We're planning to have some other tributes to Lester, including a concert or two. Music was an integral part of his life," Mr. Holt noted. Lester Howe was born on Jan. 7, 1809 in Decatur (Otsego County) -- one of five children of Ezekiel and Nancy Howe.  He was married in 1828 to Lucinda Rowley in Cherry Valley. The couple moved to Cobleskill in 1842 -- the year he discovered and explored the Caverns. In 1843, he opened Howe's Cave as the third commercial cave venture in the United States. The discovery brought him international notoriety and a new business venture by the 1860s. For his guided, eight-hour walking (and crawling) tours, he charged guests 50 cents. Throughout his life, the cave was an important element. However, he continued to operate a farm, raise three children and provide for his wife of 60 years. In 2009, Howe Caverns marked the 80
th
Anniversary of its reopening to the public in 1929. For the anniversary, Mr. Holt compiled a new book about the Caverns entitled,
Lester
Howe & Howe Caverns -- "The Hole Story
.
"
The book, available in the Howe Caverns Gift Shop, retells "a newspaper story from 1888 about these early tours, saying 'Everyone carried a lantern and wore a look of determination,'" Mr. Holt said, noting: "To a person, Lester's guests were stalwarts. The new tour will be highly entertaining and fun." Today, Howe Caverns is the largest cave open to the public in the Northeast and welcomes more than 100,000 guests each year. Regular prices for cavern tours are $18 for adults (ages 16-64), $15 for Juniors (ages 12-15) and Seniors (ages 65+), $10 for children (ages 5-11) - all plus tax.  Children ages 4 and under are admitted free when accompanied by an adult. For those looking for a leisurely getaway, overnight accommodations and special packages are available in the on-site, AAA-rated Howe Caverns Motel. Howe Caverns is located about 45 minutes southwest of Albany, off Exit 22 of I-88. Open daily, except Thanksgiving and Christmas days when it is closed, Howe Caverns' winter hours are from 9 a.m. to 5 p.m. For additional information, call 518-296-8900, or visit
http://www.howecaverns.com/.
###
MEDIA CONTACT:
Kathy Condon * Condon Communications PHONE: (518) 436-1103 E-MAIL:
kcondon@netheaven.com