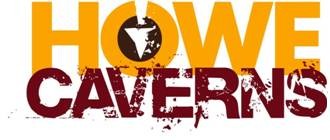 For the 200th Anniversary of Lester Howe's Birth
Howes Cave, N.Y.
-- Howe Caverns' Discoverer Lester Howe would enjoy the 200th celebration of his birth planned during Discovery Days from May 21 through May 23 at the landmark Schoharie County attraction that bears his name. The farmer, adventurer, entertainer and eccentric genius would approve of the special, commemorative tour developed in his honor: Lester Howe's Historical Candlelight Tour. "We know that Lester liked good food, good music and good fun," said Howe Caverns' General Manager Robert Holt. "And, we've got all these elements in place for this year's Discovery Days." While Traditional Tours of the cave will continue throughout these three celebratory days, the commemorative tour will take place only on the evening of May 22.  There also will be a Lantern Tour on Friday evening. Lester Howe's Historical Candlelight Tour begins with a traditional 19th century dinner served in the style of the day at the Howe Caverns Lodge. Following dinner, guests will embark on a tour of Howe Caverns, much of which will be conducted by candlelight. During the tour, guests will meet a Lester Howe re-enactor who will regale them with stories, while a friend joins him to serenade the group with fiddle music that Howe himself often played on tours. After the tour, guests will gather to enjoy refreshments including Howe Caverns' Cave-Aged Cheese and will receive a souvenir of their special underground sojourn. "For those who live in the area, they can reserve for just the dinner and the tour," Mr. Holt said. "For those coming from a distance, special overnight packages are available and may be booked by calling 518-296-8950." The Cave House Museum of Mining & Geology will be open from 12 Noon to 5 p.m. daily during Discovery Days. It is housed in the former Cave House -- a hotel built of cut limestone circa 1872 and located next to the original cave entrance. ABOUT LESTER HOWE Lester Howe was born in Decatur (Otsego County) on January 7, 1810. "On Saturday (5/22), at precisely 1:07 p.m. -- in honor of Lester's birth date -- the public is invited to join us by the big letters on the front lawn. We hope to have a large crowd gathered for a fun photograph to commemorate and celebrate Lester Howe," Mr. Holt said. The photo will be posted on the Caverns' website. This year marks the 168th anniversary of the date when Lester Howe discovered the Great Wonder Down Under -- May 22, 1842. Howe enjoyed giving personal tours of the cave. But, at times, his eccentric nature was manifested.  As an early newspaper wrote of Howe's tours, at times he would, "Petrify his guests into speechlessness." He would take, from under his arm, "a mysterious box, shaped like a baby's coffin, from which he took out a violin." Howe, the fiddler, made the visitors, "Caper about him in wild excitement and the magic of the place transformed his humble instrument into something divine." Lester Howe and his wife, Lucinda, are buried in Cobleskill Rural Cemetery. For more information about Lester Howe and his discovery, visit
http://www.howecaverns.com/
.
###
Howe Caverns is located between Albany and Cooperstown, off I-88 at Exit 22. Howe Caverns is open daily (except Thanksgiving and Christmas Day). Hours are from 9 a.m. to 6 p.m.from April through October. From November through March, the hours of operation are from 9 a.m. to 5 p.m. For more information, call 518-296-8900 or visit the website.
MEDIA CONTACT
: Kathy Condon * Condon Communications PHONE: (518) 436-1103 * CELL: 518-441-0259 E-mail: condonkathy@gmail.com