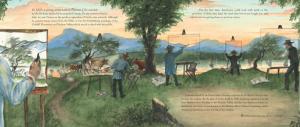 Hudson, N.Y.  –  Hudson Hall is proud to partner with the Columbia Land Conservancy (CLC), to promote literacy and safe outdoor fun with Warren Street's own 'StoryWalk'. From Friday, August 14 and into the fall, families can discover the joys of local author Hudson Talbott's 2009 book River of Dreams: The Story of the Hudson River as they take a leisurely stroll down Hudson's historic center. StoryWalk begins at the Little Free Library at The First Presbyterian Church (369 Warren Street) going towards the river and at The Artisan Shop at Camphill Hudson (360 Warren Street) in the other direction. Visit clctrust.org/storywalk for more information and to view an interactive map of StoryWalk sites.
 
The Hudson River has been a source of inspiration and a means of livelihood to all who have lived along its shores. It played a key role in the settling of the New World and the outcome of the Revolutionary War, and was the birthplace of the environmental movement. Hudson Talbott's River of Dreams (2009, Penguin Random House) pays homage to the river that shares his name with this gorgeously illustrated and fascinating history. Each appealing spread sheds light on the river's strategic, economic and cultural significance. Packed with facts, timelines and maps, it introduces topics such as the Age of Exploration, the Erie Canal, the Industrial Age, Native Americans who inhabited its shores and the river's environmental degradation and rebirth.
 
Hudson Talbott has written and illustrated over 25 books for young readers, including Picturing America – Thomas Cole and the Birth of American Art, Newbury Honor Book Show Way (written by Jacqueline Woodson), ALA Notable Book Leonard's Horse (by Jean Fritz) and We're Back! A Dinosaur's Story, which was adapted into an animated film by Steven Spielberg. Talbott's River of Dreams and O'Sullivan Stew have also been adapted and produced for the stage as children's musicals.
 
"We are excited to give families an opportunity to discover Hudson Talbott's beautifully written and illustrated story," says Hudson Hall's Executive Director, Tambra Dillon. "With the outdoors being the safest place to be outside our homes right now, much like the "river that flows two ways", families can enjoy River of Dreams going in both directions on Warren Street. StoryWalk is a great addition to Hudson's Shared Streets program, designed to support local businesses encouraging residents and visitors to eat, drink, shop and now read local!"
 
CLC is installing StoryWalks at several Public Conservation Areas including Drowned Lands, Greenport, Hand Hollow, High Falls, and Siegel-Kline Kill, and is working with partners who are creating StoryWalks along the Harlem Valley Rail Trail, at the Roe Jan Park, in the Village of Philmont, and at PS21. "While we can't get together in person for programs this summer, CLC and our partners felt it was important to provide our community with ways to enjoy the outdoors and cultivate a love of reading," says Heidi Bock, Conservation Education Manager. "We're looking forward to hearing more about people enjoying the trails while they're falling in love with a great book."
 
The StoryWalk Project was created by Anne Ferguson of Montpelier, Vermont and developed in collaboration with the Vermont Bicycle & Pedestrian Coalition and the Kellogg-Hubbard Library. This project was funded in part by a grant from the NYS Environmental Protection Fund, NYS DEC Hudson River Estuary Program.

ABOUT COLUMBIA LAND CONSERVANCY
For more than thirty years, the Columbia Land Conservancy has worked to inspire our community to more deeply connect with, respect, and protect the natural world. We work with partners and volunteers to improve the health of the land, ensure a thriving farm economy, create environmental education opportunities, provide access to outdoor experiences, and support municipal leaders in conservation-minded decision making. For additional information, call 518.392.5252 or visit clctrust.org.

ABOUT HUDSON HALL
Hudson Hall is a cultural beacon in the Hudson Valley, offering a dynamic year-round schedule of music, theater, dance, literature, workshops for youth and adults, as well as family programs and large-scale community events such as Winter Walk. Located in a historic landmark that houses New York State's oldest surviving theater, Hudson Hall underwent a full restoration and reopened to the public in April 2017 for the first time in over 55 years. The newly restored Hudson Hall reflects Hudson's rich history in a modern facility that welcomes residents and visitors from throughout our local community, across the nation, and around the globe.
Photo: A page from Hudson Talbott's "River of Dreams", on view on Warren Street as part of Hudson Hall and the Columbia Land Conservancy's StoryWalk