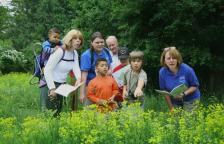 Part of Annual Hudson River Ramble 
Cornwall, N.Y.
- On Saturday, September 17 and Sunday, September 18, at 10 a.m., the Hudson Highlands Nature Museum will be hosting a Guided Quest Trail Hike.  Come join an Environmental Educator at the Museum's Outdoor Discovery Center, on Muser Drive, across from 174 Angola Road, Cornwall, for a guided Quest hike. The well-marked trails are accompanied by a fun interactive guidebook that helps participants discover the wonders of the Highlands.  Admission is free. Hikers have the option to purchase of a Quest Guidebook for $5, which can be shared, and they will also receive a free Museum bandana. Trail difficulty: Moderate, Length: 1.5 miles, Duration: 1.5 hours. Sturdy shoes or hiking boots recommended.  Bring water. Recommended for adults with or without children and for children ages 5 and up.  For information, call (845) 534-5506, ext 204.Visit the museum's website at
http://www.hhnaturemuseum.org/
.                                                                         ###
Photo Caption
: Join an Environmental Educator for a Guided Quest Hike as part of the Annual Hudson River Ramble on Saturday, September 17 and Sunday, September 18 beginning at 10 a.m.
Contact:
Marian Goldin, Marketing Manager
Hudson Highlands Nature Museum
845-534-5506, ext. 215