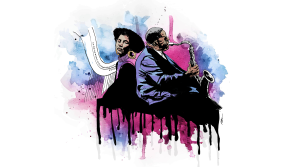 Hudson, NY – With a focus on music as a healing force, Hudson Hall is proud to announce a special edition of the annual Hudson Jazz Festival from November 13 – December 20, 2020. Curated by Cat Henry, the festival celebrates the enduring vision of Alice and John Coltrane, whose relationship and creative output symbolize artistic achievement and Black excellence. In an effort to lift spirits in a turbulent time and encourage visitation to support local businesses, the festival has been shifted from its usual President's Day weekend schedule to five energizing weekends of Live from Hudson Hall Facebook Live streamed music, and free exhibitions, film, talks, and events to engage and enrich our community starting November 13, 2020.
Concerts will be live streamed from Hudson Hall's grand performance hall, which will also be transformed into a series of intimate "home pods" for daytime intentional listening and learning. Tickets for the virtual concerts are $20 (or pay what you can) or All Five for $75 and are on sale now. Visual art, film, talks and daytime access to the second floor intentional listening and learning space are free on a reservation-only, timed-entry basis. For more information, visit hudsonhall.org or phone (518) 822-1438.
 
Hudson Jazz Festival curator, Cat Henry, said:
 "It's my pleasure to curate this special edition of the Hudson Jazz Festival, providing a moment of respite during turbulent times and amplifying Black voices. When John Coltrane met Alice McLeod [Coltrane] in 1963, he had already achieved fame as a saxophonist and composer, and she was a pioneering female jazz pianist. They fell deeply in love and became spiritual soul mates and musical travelers. The innovative music they went on to create, including John's 'A Love Supreme' and Alice's 'A Monastic Trio', explores the intersection of earthly and divine love, and was intended as a force for good. We honor their legacy, providing space for jazz musicians to respond creatively to the life-altering impact of 2020, channelling the Coltrane spirit to present music that has the power to heal, entertain and inspire."
Tambra Dillon, Executive Director of Hudson Hall said:
"Since its inception in 2018, the Festival has provided residents with quality performances and free engagement programs during the winter's slow season. In this special edition, we have re-imagined the festival in direct response to the economic concerns for the ability of local businesses to survive the pandemic as the weather becomes too cold for outdoor dining. The use of digital technology allows us to expand the Festival's reach to include audiences nationwide and worldwide to shine the spotlight on Hudson and this year's world class slate of artists, while serving local and regional audiences with free in-person exhibitions, films and talks to enrich and engage our community."
 
MAIN STAGE LIVE STREAMED CONCERT LINE UP:

Saturday, November 14 at 7pm
BRANDEE YOUNGER TRIO

"Younger taps into the spiritual well that fuelled the art of both Ashby and Coltrane, yet she remains ever-cognizant of the time in which she lives and plays." - All About Jazz
 
Harpist Brandee Younger infuses her music with jazz, soul, and classical influences, digging deep into the harp tradition pioneered by Alice Coltrane and Dorothy Ashby. Recently signed to Impulse Records, the future is bright for this rising star as she steps out of the shadow of her forebears to create her own legacy on this exceptional instrument, accompanied by her partners in her trio, Dezron Douglas on bass and Alan Mednard on drums.
Saturday, November 21 at 7pm
MARCUS STRICKLAND QUARTET
 
"One of the most creative and adventurous saxophonists on the NYC scene." - JazzWise Magazine
 
Saxophonist, composer, and Blue Note artist Marcus Strickland has blazed a trail on tenor and soprano saxophone for 20 years as a charter member of the 21st century jazz vanguard. His lyrical, fiery compositions are rooted in the tradition as he blazes a new path in contemporary jazz. Here, he'll pay homage to John Coltrane, who influenced generations of musicians, while demonstrating the power of now.

Saturday, November 28 at 7pm
ORRIN EVANS TRIO
"Mr. Evans is a viable candidate for jazz's most resourceful and invigorating contemporary pianist." – New York Times
 
Philadelphia native, pianist, composer and educator Orrin Evans has always followed a vigorously individual path, believing passionately in the power of artistry to help people. His singular vision has led him to release poignant recordings on his label Imani Records, with his small group or as leader of the Captain Black Big Band. Here with his trio, expect shuffle blues, soft ballads, and a dash of Philly soul.
 
Friday, December 4 at 7pm
JD ALLEN TRIO
 
"Mr. Allen has become one of today's most exciting tenor saxophonists not by trying to spotlight his own virtuosity…but by defining a new way of playing in a group. With the trio, his focus is on deepening your listening — on burrowing down." – New York Times
 
In a review of JD Allen's recent release, "Toys / Die Dreaming" (August 2020) Larry Blumenthal of the Wall Street Journal stated, "Mr. Allen is an essential voice on jazz's landscape for both his force and his restraint, as well as for the beauty of his tenor saxophone's sound." Allen and his co-creators, Ian Kenselear on bass and Nic Cacioppo on drums, weave a mesmerizing narrative with short melodies as jumping off points for collective improvisation, underpinned by deep grooves and unexpected rhythmic motifs.
 
Saturday, December 12 at 7pm
CAMILLE THURMAN QUARTET
 
"You're hard pressed to find rising talents more exciting than Camille Thurman whose sound is as commodious and strong as Hank Mobley's" – New York Times
 
When Camille Thurman is not touring with the Jazz at Lincoln Center Orchestra, she's on the road leading her band, The Camille Thurman Quartet. As a composer, multi-instrumentalist, vocalist, and unique interpreter of the jazz tradition, she is quickly becoming one of the standard-bearers for the form, making a considerable and dynamic contribution to the legacy of jazz while paying tribute to its heroes.
 
Friday, November 13 – Sunday, December 20, 2020
ART & SOUL
A group exhibition and intentional listening installation curated by Reginald Madison
Featuring Reginald Madison, Kianja Strobert, Marlene Marshall, Richard Sandler, Tschabalala Self, Bijan Mahmoodi

Fridays – Sundays 1 – 5pm (Free, timed entry on the hour; reservations required, no more than 10 reservations max/hour*).
 
Born in Chicago, Illinois, Madison was greatly influenced by his parents' love of jazz and the stories they told of seeing Sun-Ra at the legendary Club DeLisa on Chicago's south side, and by the family's frequent trips to the Art Institute of Chicago and the Museum of Contemporary Art Chicago. In 1970, Madison was invited to participate in an art show that helped to establish him in the emerging arts scene in Chicago, and he went on to travel and study art independently in Paris, Venice and Copenhagen. Shortly after, he moved to the Berkshires in Massachusetts and then to Manhattan. He now calls Hudson, New York home.

What does it mean to be an artist at HOME? 
In addition to curating the first-floor galleries, Reggie Madison has scoured Hudson's dozens of antiques, interiors and design shops to transform Hudson Hall's grand performance venue into a series of intimate home pods for intentional daytime listening and learning.
 
In a time of uncertainty and isolation, the notion of what home means has changed dramatically. No longer just a place to find solace or rest, our private spaces have been working overtime to function as offices, schools, or digital meeting rooms. These spaces are also home to innovative impulses, and while many individuals are taking time to bond with family members, they're also tapping into their creativity, which can often take a back seat to the demands of everyday life.
For John and Alice Coltrane, home was always a place to experiment with their artistry. Their family home in Long Island, New York, was the birthplace of some of their most celebrated work. To listen to John and Alice's work is to be invited into their home. In this spirit, this November we invite you to experience the Hudson Jazz Festival and the Coltrane legacy not only from your own home, but safely in ours. 
 
* In keeping with New York State guidelines to reduce the risk of COVID-19 transmission, all visitors to Hudson Hall must comply with safety protocols, wear a mask and practice safe physical distancing. Hudson Hall reserves the right to refuse entry to anyone who does not comply with these guidelines or make reservations in advance.
 
ABOUT HUDSON HALL
Hudson Hall is a cultural beacon in the Hudson Valley, offering a dynamic year-round schedule of music, theater, dance, literature, workshops for youth and adults, as well as family programs and large-scale community events such as Winter Walk. Located in a historic landmark that houses New York State's oldest surviving theater, Hudson Hall underwent a full restoration and reopened to the public in April 2017 for the first time in over 55 years. Unique in its ability to bridge the divide between Hudson's underserved populations, more affluent residents and flourishing arts scene, Hudson Hall's programs are designed to respond to the economic and cultural needs of its diverse community. In 2019, through an extensive program encompassing live performance, art exhibitions, city-wide festivals, free community events and workshops, Hudson Hall served an audience of 50,000 and employed over 400 artists and skilled technicians, making it a valuable contributor to Columbia County's $8MM creative economy. Approximately 70% of Hudson Hall's programs are free of charge or subsidized to ensure equitable access to the arts.
 
Hudson Jazz Festival is made possible with an Arts Impact Award from the New York State Council on the Arts with the support of Andrew M. Cuomo and the New York State Legislature, and with generous support from Berkshire Taconic Community Foundation and Upstate Theater Coalition for a Fairgame.