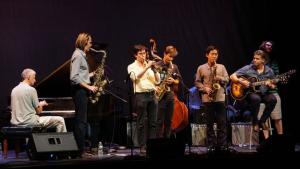 Sunday, August 9 at 4pm
Hudson Jazz Festival Favorite, Bassist Jay Anderson, Returns as Special Guest; also featuring Co-Directors, Armen Donelian, piano and Marc Mommaas, saxophone
Joined by the Participants of the 2020 Hudson Jazz Workshop
Hudson, N.Y.  – Hudson Hall and Hudson Jazzworks (HJW) invite jazz fans around the globe to enjoy an afternoon at Hudson Hall from the comfort of their own homes with the free, live-streamed Hudson Jazz Workshop Concert on Sunday, August 9 at 4pm. The HJW concert features four workshop participants performing alongside co-directors, pianist Armen Donelian and saxophonist Marc Mommaas, with special guest artist and Hudson Jazz Festival favorite, bassist Jay Anderson. The concert is the culminating event of a series of events taking place as part of the 14th Annual 2020 Hudson Jazz Workshop, including an Online Composers Forum and a live-streamed Online Masterclass with Jay Anderson on Sunday, August 9 at 10:30am. Streaming links will be posted at www.hudsonjazzworks.org and www.hudsonhall.org.
The Hudson Jazz Workshop is a four-day immersion in improvisation and composition with Armen Donelian, a Hudson resident and curator of the 2018-2020 Hudson Jazz Festival, and Marc Mommaas, a Dutch native living in New York City. In addition to their accomplishments as performers (both as an established duo and as acclaimed soloists and bandleaders), Armen and Marc are celebrated composers and experienced educators. Jay Anderson is an inspiring teacher, performer and in-demand recording artist on over 400 albums. Past HJW participants, often rising professionals, originate from Argentina, Armenia, Brazil, Canada, Denmark, Holland, Italy, Japan, Nigeria, Norway, Poland, Spain, Ukraine and the USA. They perform their innovative works-in-progress rehearsed under the faculty's guidance. The concert concludes with all performers playing together in a rousing closer.
These events are enabled in part with funds granted to Hudson Jazzworks from The Bank Of Greene County Charitable Foundation and through the generosity of individual donors.
Bassist/composer Jay Anderson is among the most versatile and respected jazz artists performing today. He has performed/recorded with Woody Herman, Carmen McRae, Michael Brecker, Paul Bley, Bob Mintzer, John Abercrombie, Dave Liebman, Joe Sample, Maria Schneider, Stanley Cowell, John Scofield, Lee Konitz, Vic Juris, Red Rodney, Ira Sullivan, Mike Stern, Anat Cohen, Toots Thielemans, Kenny Wheeler, Oswaldo Golijov, Dawn Upshaw, Michael Franks, David Bowie, Frank Zappa, Tom Waits, Terre Roche, Chaka Khan, Michel Legrand, Allen Ginsberg, and Celine Dion. Jay is a Professor of Jazz Bass Studies at the Manhattan School of Music in New York City and currently co-leads the critically acclaimed group BANN featuring Seamus Blake, Oz Noy, and Adam Nussbaum.
Pianist Armen Donelian graduated from Columbia University and the Westchester Conservatory of Music. He has toured in 25 countries with renowned performers including Sonny Rollins, Chet Baker, Billy Harper and Paquito D'Rivera, and recorded with Mongo Santamaria, Eddie Gomez, Billy Hart, Dick Oatts, Bill Stewart, Night Ark, Thomas Chapin and Datevik Hovanesian, and Billy Harper. Armen's Grammy-nominated compositions exhibit Classical, Jazz and Middle Eastern influences and appear on 13 acclaimed albums for the Sunnyside, Odin, Atlas and Playscape record labels. His distinctive piano arrangements of 18th Century Armenian folksongs appear on the two-disc release, Sayat-Nova: Songs Of My Ancestors (Sunnyside) with David Clark and George Schuller, and in print in Ancestral Songs (Edition Gruber). A Fulbright Senior Scholar and National Endowment for the Arts Fellow, Armen has taught for over three decades in The New School Jazz Program. His widely read books on piano pedagogy and ear training have been translated into three languages. Armen lectures and performs internationally at leading academies and concert venues and curated the 2018-2020 Hudson Jazz Festival.
Saxophonist Marc Mommaas is a Cum Laude graduate of Manhattan School of Music (MSM). A William Borden Award recipient, Marc is a frequent lecturer at MSM, New York University, William Paterson University, Rhythmic Music Conservatory (Denmark) and the Conservatory of Amsterdam. Marc co-directs both Hudson Jazzworks and the New York Jazz Workshop. He is a faculty member of The New School Jazz Program, leads two celebrated bands (Global Motion and Landmarc) and composes innovative works featured on Global Motion, Balance and Landmarc (all on Sunnyside Records). Marc tours internationally with Amina Figarova, Tony Moreno, Tim Horner and Armen Donelian and has appeared in major venues including the Newport Jazz Festival and Carnegie Hall. Marc's newest CD, Ballads and Standards, features Nikolaj Hess, Thomas Morgan and Vic Juris.
Armen and Marc met in 2000 and immediately established a personal chemistry that is at the heart of their music making. For 19 years, they have performed their original compositions and standard repertoire recorded on their critically acclaimed Sunnyside duo CD, All Or Nothing At All.
ABOUT HUDSON HALL
Hudson Hall is a cultural beacon in the Hudson Valley, offering a dynamic year-round schedule of music, theater, dance, literature, workshops for youth and adults, as well as family programs and large-scale community events such as Winter Walk. Located in a historic landmark that houses New York State's oldest surviving theater, Hudson Hall underwent a full restoration and reopened to the public in April 2017 for the first time in over 55 years. The newly restored Hudson Hall reflects Hudson's rich history in a modern facility that welcomes residents and visitors from throughout our local community, across the nation, and around the globe.
High res images available upon request.
Photo: 11th Annual 2017 Hudson Jazzworks Concert at Hudson Hall. Photo by Rich Thomson
PRESS CONTACT:
Caroline Lee,  (310) 913-6927