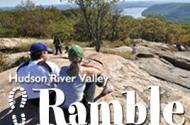 Albany, N.Y. -
The Hudson River Valley Greenway and Hudson River Valley National Heritage Area invite people from near and far to participate in the Hudson River Valley Ramble. Now in its 14th year, the Hudson River Valley Ramble brings people outside to enjoy the Valley's distinct cultural heritage and scenic beauty during the Northeast's most beautiful time of the year.
Hudson River Valley Ramble events are being held on four weekends:  September 7-8, 14-15, 21-22 and 28-29. 
Events include guided hikes, cycling and kayaking tours, historic site walks, festivals and river explorations. With more than 200 events being offered this year, there is something for everyone. Make plans now with some of the suggested events below, or find more on the Ramble website:
http://www.hudsonrivervalleyramble.com/
. Here are some of the events happening this weekend near you:
View migrating raptors in flight over Thacher Park's escarpment, during the Hawk Migration Watch (9/14, 10:00 AM). The hundreds of migrating birds make this event exciting and magical. Veteran hawk watch leader Will Aubrey brings enthusiasm and wonder as he shares his knowledge of these spectacular birds.
An old fashioned agricultural festival devoted to all aspects of harvest time in the colonial-era Hudson Valley, the Crailo Harvest Faire offers seventeenth- and eighteenth-century music, historical re-enactors, vendors, Native American and colonial demonstrations, games and activities (9/14, 11:00 AM).
Who was the man behind our nation's icon of Uncle Sam? We want YOU to tour around Troy, and visit sites associated with Samuel Wilson, the original Uncle Sam (9/14, 10:30 AM). Join your guide from the Rensselaer County Historical Society for fascinating facts about this American icon.
For a complete listing of events, visit
http://www.hudsonrivervalleyramble.com/
or pick up a copy of the Ramble guidebook. Copies of the guidebook can be found at various tourist destinations throughout the Hudson Valley. Digital versions may also be downloaded directly from the website. The Hudson River Valley Ramble is presented by the
Hudson River Valley National Heritage Area
and
Greenway
, in partnership with the
NYS DEC Hudson River Estuary Program
,
NYS Office of Parks, Recreation and Historic Preservation
, the
NYS Office of Tourism
, the
National Park Service
, Erie Insurance; the New York State Outdoor Education Association; and is made possible through the efforts of 155 partner organizations.