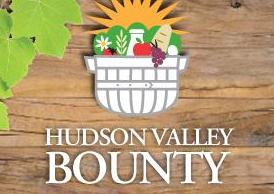 Hudson Valley, N.Y.
  -  Hudson Valley AgriBusiness Development Corporation (HVADC) in partnership with Hudson Valley Tourism was awarded a grant from New York State Department of Agricultural and Markets to promote their Hudson Valley Bounty program. Hudson Valley Bounty is a membership driven program with the mission is to promote and support networking connections between local agricultural producers, culinary businesses and consumers, while educating the community about the preservation of local farms and the use of local and regional sustainable food products. The grant allows for HVADC and HVT to create a multi-year marketing and media campaign aimed at increasing the sales of specialty crops in the Hudson Valley region through enhanced consumer awareness of what products are available and where they can be purchased. Todd Erling, Executive Director of HVADC states, "Thanks to Governor Cuomo and Commissioner Aubertine, this grant is a terrific opportunity to continue our efforts to make Hudson Valley Bounty the source for all local food needs here in the Valley. We are pleased to be working closely with the staff at Ag & Markets to raise the profile of Hudson Valley specialty crop farmers and the region as a whole for its dedication to locally grown products." Mary Kay Vrba President of Hudson Valley Tourism states "Working together with HVADC not only highlights the local foods but also will help to further the awareness of the farms that are available for our visitors to stop by and bring home locally grown products and dine in local restaurants serving local foods". HVADC is offering free business memberships to farmers and restaurants to participate in the Hudson Valley Bounty program and take advantage of the promotional offerings being made through this grant. Interested business owners should contact Cassandra Brooks at 518-432-5360 x. 303 or via email at cassandra@hudsonvalleybounty.com for more information. People are encouraged to visit www.hudsonvalleybounty.com to locate farms, farmers markets and restaurants serving delicious meals using local products. HVADC is also please to announce that Cassandra Brooks is participating in this effort as an intern working on the Hudson Valley Bounty program. Ms. Brooks is a SUNY Cobleskill student and will graduate with a bachelor of technology degree in Agricultural Business Management in December. Ms. Brooks was raised on a dairy farm in Ulster County and has worked at multiple produce and agricultural tourism/education farms. "I look forward to my time at HVADC and through my family farm experience, I can appreciate the need to market local area farms in order to enhance their bottom line," said Ms. Brooks.
About The Hudson Valley AgriBusiness Development Corporation (HVADC)
The HVADC is the region's sole economic development agency with a specific focus on the viability of the agricultural economy in the Hudson Valley. It assists both new and existing agri-businesses such as farms, food businesses, and food distributors, by providing technical and business consultation and resources. The non-profit promotes balanced, market-based solutions that lead to enhanced agricultural entrepreneurship, rural economic growth, and community enhancement.Visit www.hvadc.org for additional information.
About Hudson Valley Tourism (HVT)
Hudson Valley Tourism, Inc. is the 10-county region designated by I LOVE NEW YORK to promote tourism for the area. Counties include Albany, Columbia, Dutchess, Greene, Orange, Putnam, Rensselaer, Rockland, Ulster and Westchester. Regional information can be obtained from any of the county tourism offices, or by calling 845-615-3860. Editor's Note: High resolution logos for Hudson Valley Bounty, the Hudson Valley Agribusiness Development Corporation and Hudson Valley Tourism, Inc. are available, as well as photos from past Hudson Valley Bounty tasting events. 
###
Contact
: Mary Ann Johnson, Projects Director
majohnson@hvadc.org
518-432-5360 Hudson Valley Agribusiness Development Corp Susan Hawvermale
shawvermale@orangecountygov.com
845-615-3863 Hudson Valley Tourism